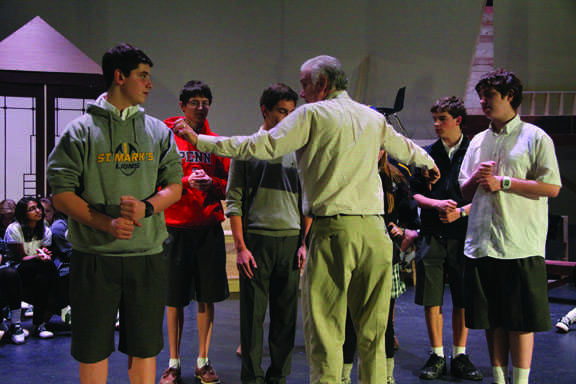 Cast of Fiddler on the Roof learn Jewish cutlure for production
On a Friday after school, Hockaday and St. Mark's Upper School students practice for their upcoming musical, "Fiddler on the Roof." Taking stage directions, reciting lines and reviewing songs, the cast members perfected their parts to capture the character of Russia in 1905.
"Fiddler on the Roof" is one of the drama program's few ethnically-centered musicals.
Senior Regen who plays Golde said, "With other shows we've done, it's not really based on a whole culture and there's not a lot of preconceived notions."
In every scene and song, the students have to stretch themselves to express the cultural themes woven throughout the musical.
While most  students have not seen "Fiddler on the Roof," the musical directors work tirelessly to ensure that each participant is knowledgeable about the historical and cultural ties of the musical.
Performing Arts Chair and Head of Dance Department Beth Wortley said the musical directors "were very concerned about having the students really understand the culture and the traditions before [they] started."
During practices, the musical directors work with the performers to help them connect with their characters.
"As I'm teaching the different songs, I'm constantly referring to what that means and trying to get them into that mindset,"  music director Bonnie-Jean Coleman said.
"I research traditional Jewish folk dances and then I build from there," Wortley said.  "I look at what those traditional folk dances are. I like to start with what would have been done."
College counselor Heath Einstein even led a Jewish culture workshop.
Einstein "talked to us on the first day we got together just about the history of the Jewish people in Russia… He went way back to the beginning of the different tribes of Abraham and brought us up to date,"  Coleman said.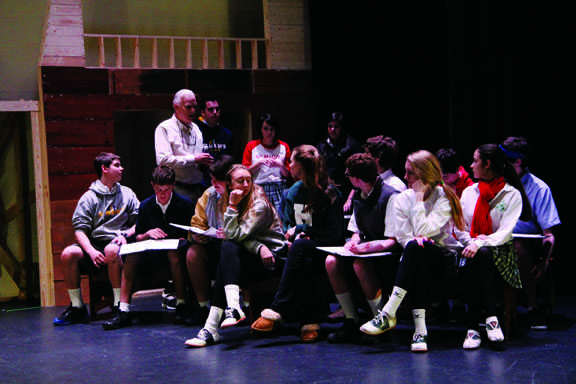 Regen said that the musical's different theme is "cool" because "with Seussical it's Dr. Seuss and you kind of go from there."
However, Coleman also notes that although the musical adds diversity to Hockaday's large repertoire of western culture musicals and plays, on-stage art forms always reflect history.
"Almost all musical theatre parallels some part of history and culture….You can study musical theatre and learn a lot about history, even if it's not a specific culture,"  Coleman said.
Regen agrees that "a lot of shows come from a movement of the time, and it's really a part of our American culture."
More than anything, the musical has been a bonding experience for all involved. Blending Jewish culture with an up-beat tune, the song "Tradition" has brought the entire cast together.
Coleman thinks that "one of the neat things is when we all came together and we all did 'Tradition.' I was really impressed with how quickly they learned it."
Wortley liked practicing the opening sequence because it allowed the students to "get the feel of what the movement of the show would be like. That's been the best so far."
– Ansley