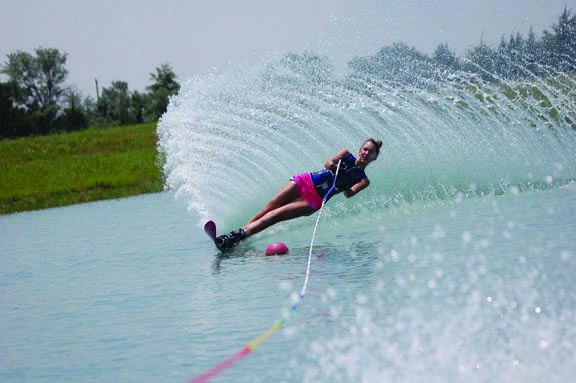 Freshman Camille competes in water skiing
The trophies and medals lining the walls of freshman Camille's bedroom are not the typical youth league soccer and tee-ball awards—instead, they display Camille's unique talent.
A competitive slalom water-skier, Camille spends every day of her summer training for competitions at her lake house just outside of Dallas. Like most professional athletes, she started at a young age.
"I was seven when I first started waterskiing,"  Camille said. "We had just bought a lake house so I started learning how to ski at a camp called Ski-n-Skats."
Senior Elli also attended Ski-n-Skats, where she recalls watching Camille ski. "Even at such a young age I could tell that she would be incredibly good. She was already way better than me!"
Elli's prediction came true. After rigorously training each summer, Camille quickly progressed to a competitive level.
"Three summers ago I competed in my first regional tournament," she said. "I didn't make the opening pass so I didn't even get a ranking."
She persevered and kept training, and the next summer, 2010, she returned to the regional competition and placed thirtieth in  her age group.
Her waterskiing career only took off from there.
"Last summer, I was eligible to compete in Nationals. In that competition I did my personal best and placed seventh nationally for my age group."
Eighth grader Grace, a fellow competitive water-skier, said that Camille "is very hardworking and her talent has grown a lot in the past year or so. She's definitely someone to look up to."
Although her slalom career has been successful thus far, Camille said that "because the training is so demanding and time-consuming," she is not sure if she wants to compete again next year.
Even if Camille chooses to not compete, she still has fond memories.
"My experiences have been great. Whether it be professionally or recreationally, I'm sure that I will always continue to water-ski."
– Catherine