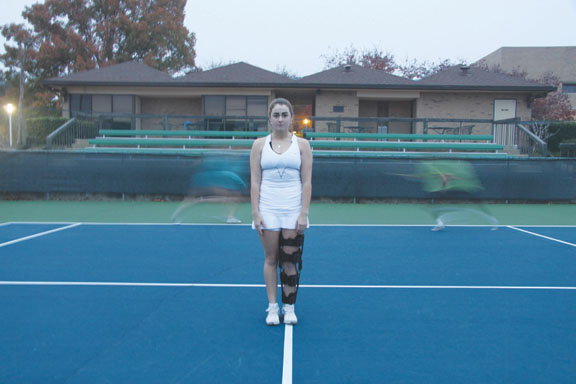 Knee injuries can be prevented in female athletes
Tennis player junior Mason and soccer player junior Anase, both ranked among the top high school females in the state for their respective sports, both slashed six months of training during prime college recruiting season.
Freshman varsity volleyball starter Samantha switched positions—not because she wanted to. And not because her coaches wanted her to.
Of her athletic career, junior Emily said "it's ruined." She points to a single slip on the vault at age 11 as the establishment of a major athletic roadblock.
"I landed on my back, and it shifted my neck bone out of place, which caused my lower back to become crooked. That caused my left hip to move an inch out of place," Emily said.
The sustaining, still-affecting-her-today aspect of this injury: chronic knee pain and a high risk of dislocating her knee cap.
"The tendons became so thick that my knee cap was loose and couldn't stay in place," she said. "I can only work out on it to my full pain tolerance, and once it starts hurting I have to immediately stop and ice it for 40 minutes."
Ultimately, Emily will need to undergo surgery and physical therapy to make a full recovery.
Data from the National Collegiate Athletic Association shows that female athletes between ages 14 and 20 are twice as likely to incur an anterior cruciate ligament or knee related injury, which the rate for some sports, such as women's basketball is up to seven times as high.
The most widely recognized cause for the discrepancy is anatomical—the female pelvic structure is more angular and thus provides less stability, making women less steady when they run.
Hockaday Trainer and Athletic Operations Manager Jeanne Olsen said that the notch at the top of the knee that the femur attaches to is wider for females, so the femur moves around more easily. This also makes the knee less stable.
Other reasons for the disproportionate distribution of injuries include: a woman's muscular reaction time is on average slower than her male counterpart's and women's anterior cruciate ligaments are on average smaller than males', making females' more susceptible to fraying and tearing. Women's higher levels of estrogen lead to looser ligaments which provide less protection.
But post-ACL tear, this information did little to help Mason, a highly competitive tennis player for both Hockaday and her club team at T Bar M Country Club. When she tore her ACL, she was ranked sixth in the state
"If I haven't played all year, my ranking will drop, so I probably won't get into our big tournament showcases," Mason said. "I'll still get into contact with college coaches; they just won't see me play for a while."
She is currently three weeks into a six month recovery process. She attends physical therapy up to four times a week.
Dealing with a sustaining knee injury, however, can be just as frustrating for freshmen athletes.
Samantha, a varsity volleyball player, sat out for a significant part of the fall season after a fluke injury that occurred while she was running sprints during practice.
"It was a bummer because when I finally came back, I wasn't playing to my full potential," she said. "My position [middle blocker] got taken over by another player, so I had to learn another position [right side hitter]."
Samantha's injury, however, did not stop her from trying out for and making a second varsity sport this year. She fought back to secure a spot on the varsity basketball team, where her weak knee is easier to cope with because her position requires less jumping.
"I just keep playing and hope I don't permanently damage it," she said with a laugh.
Staying Positive
Hockaday's Director of Interscholastic Athletics Tina Slinker acknowledges the difficulty of being able to compete again at pre-injury levels, especially after athletes suffer long term injuries such as ACL tears.
"You go from being maybe an integral part of a team to 'now what do I do?'" she said, "And I think it's really an emotional experience, because I think girls do sports not only for the competitive side but also for social reasons, and I think they can start to feel like 'where do I fit in with the team now?'"
Slinker encourages athletes to find solutions, to look for ways to lead off the court.
At the end of the day, she reminds athletes that "you are always more than the sport, that you are who you are, and just because you can't play doesn't take away from the character that you have or the leadership that you brought to the team in the first place."
Varsity volleyball coach Adaku Achilefu, who has herself undergone three knee surgeries throughout her athletic career, also encourages athletes to make the most of their recovery time. Achilefu tore her ACL while playing volleyball at Texas A&M in 1999, removed scar tissue in 2002 and most recently tore her meniscus playing volleyball with the varsity team.
"I tell [athletes] to continue being a student of the game," she said. "To learn from watching even if they are not able to directly participate."
Achilefu also suggests that athletes use the recovery process as a lesson not only in their athletic careers, but also in other areas of their lives.
"It is the same thing in real life," she said. "We will encounter setbacks, but we must figure out how we are going to push through them and be resilient."
Recovery
Anase, who tore her right ACL in seventh grade and then her left ACL last February in a soccer game against ESD, has placed renewed focus on preventing future injuries as she works toward her goal of playing soccer at both the collegiate and professional level.
Anase attends soccer workshops where professionals teach her and her teammates how to fall correctly as well as other ways to prevent additional tears and injuries.
"They tell us to make sure that our quads and hamstrings are as strong as our calve muscles and vice versa," she said. "Then there is an even balance between them. It really helps your knees if your calves and thighs are strong."
Starting strength training for the lower extremities several weeks before the competitive season by performing exercises such as leg presses, squats and lunges greatly decreases the likelihood of suffering a knee injury.
Performing jump training, such as wall jumps, broad jumps and squat jumps, is also beneficial for athletes to train their bodies to land in a safe position—on their toes or the balls of their feet, with their knees bent and with their chest above their knees.
In preventing injuries of any type, developing and maintaining core strength and cardiovascular endurance by running and cross-training (working out on the stair climber, stationary bike and elliptical machine) goes a long way.
Most importantly, Olsen suggests that athletes apply sensibility to their training. When increasing intensity, they should do so at a reasonable pace. And when a body part feels sore, they should rest it and apply ice.
Applauding the competitive nature and tireless exertion of many Hockaday athletes, Olsen hopes that players will take advantage of the preemptive measures available to them to prevent setbacks in their hard work.
"You just never know what [injury] will happen," she said, "So you've got to be ready for anything."
– Hailey