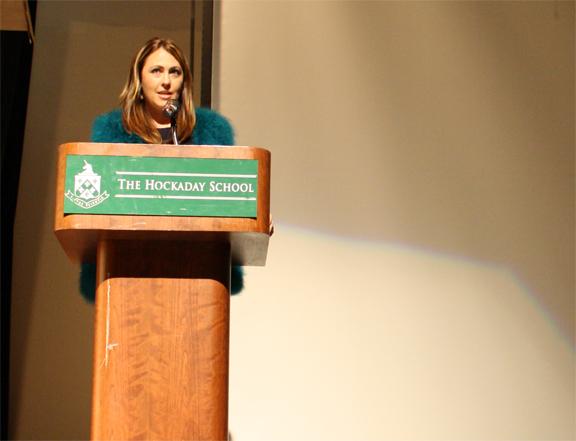 On Jan. 4, Abi Ferrin, an upcoming Dallas-based designer, greeted Upper School students in a long sleeve maxi dress and bright blue faux fur vest. Ferrin seeks to empower women through not only her clothes but also the Freedom Project.
Through the Freedom Project, which Ferrin started upon moving to Dallas in 2005, she aims to enable women in impoverished areas of South Asia to improve their lives by teaching them skills to provide income for their family. For example, women specially craft wooden buttons for Ferrin's collection, and she shares part of her profit with the women, to whom she guarantees fair pay.
Ferrin's project has saved women from the sex trade and other forms of indentured servanthood as well as educated communities across Asia about the dangers of selling their daughters into dangerous situations.
Ferrin left a strong impression on Hockaday senior Sarah by sharing her own story of overcoming domestic abuse and other difficulties, such as debt.
Sarah said Ferrin's talk was "the most interesting assembly we've had in awhile because everyone in the audience could connect to the topic, and [Ferrin] actually spoke to the girls and made it about us and our future—not about her accomplishments."
Ferrin also motivated girls to reconsider their own shopping habits in order to help end the cycle of indentured servanthood. Throughout the week following the assembly, buzz words such as "fair trade labor" and "fair trade stores" could be heard throughout Hockaday.
President of the Human Rights Committee, senior Tita, said she "was so glad that everyone was interested [Ferrin's] message. It is very important to prevent exploitation of our fellow world citizens, and Abi Ferrin's use of fashion to spread this message works really well with young women."
Tita says Hockaday students left the assembly with not only a new awareness about the tough situations women throughout the world encounter but also a plan to help women in needby only buying from stores that promote fair trade labor.
Junior Charlotte agreed, saying that she left the assembly knowing how she could assist these women.
"I had seen examples of indentured servitude and sex trade in videos shown in AP Environmental Sciences," she said, "But I never knew I could do something about it in Dallas."
– Megan N