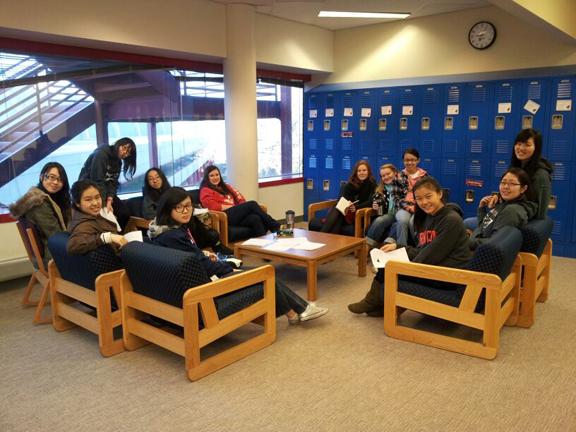 On Jan. 21 at 9:30 a.m., students from dozens of Dallas schools scrambled into desks at the Parish Episcopal School, sat hunched over their seats and began scribbling furiously on math tests for the 9th annual Metroplex Math Competition.
The competition provided 45 minute tests in Algebra I, Algebra II, Geometry, Pre-Calculus and Calculus, and each student participated in exactly two events. Students competed in the open division if they had completed the tested course and the closed division if presently enrolled. Questions are assigned points according to difficulty, and winners are decided based on the highest point score.
Freshman Sarah stood out in the competition by winning two individual awards (in Geometry and Algebra II) and participating on the Hockaday team along with five juniors and seniors.
"I went to the A&M math competition with a lot of [the upper classman] earlier this year, so I knew most of them already, but the team round was intimidating because they had more experience and had learned more than I had about math," she said. "It felt pretty good [to do well] because I was competing with sophomores through seniors and just to place in the competition was amazing."
With a bit of prodding, Sarah divulged a few of the secrets to her success.
"For this [competition], I just reviewed over a couple of AMC 10 [American Mathematics Competition] problems that I had done earlier," she said. "Since I was younger, my mom sent me to higher level math classes outside of school, usually a couple of grades older, and I'm still doing that today. I guess I'm just good at it because I've been doing it for such a long time."
Because of the dedication from math club members, Hockadaisies also took 4th place in sweepstakes, after St. Marks, Cistercian and Greenhill, as well as 4th place in the team event with members Suzy, Casey, Linda, Rebecca, Hailey and Sarah. Moreover, Hockaday won five individual awards, including Sarah's two.
"The problems are not difficult, but you have to read them carefully," Rebecca laughed as she recalled the careless mistake she made on one of her tests.
"Instead of computing a series from 1 to 999, I computed it from 1 to infinite, so I got that question wrong," she said.
Junior Linda felt a little anxious for the competition, but overall, she "has fun doing [math]."
Similarly, for Rebecca, it was a "love of math" that drove her to spend a Saturday morning racking her brain to solve math problems.
"I like math because it's like solving a puzzle," Linda said. "All the pieces are in your head from math class. All you have to do is put it together to solve the problem and complete the picture."
Mathematics Department Chair and math team coach Jeri Sutton expressed her pride in the team's performance at the tournament as well as her hope that the team continues to participate in a variety of competitions.
"[Math club] is very student driven. We would love to see the students build the program, and we count on their leadership to do that," she said. "For math competitions, it is good for the students who want the extra challenge, who want something outside of the classroom, who enjoy math and working the problems they have never seen before."
Individual Awards
Casey- 2nd place Algebra II Open
Sarah- 3rd place Algebra II Closed and 4th place Geometry Open
Suzy- 3rd place Algebra II Open
Rebecca- 4th place Calculus Closed
Team Awards
The Hockaday School- 4th place team
– Kathy