Included in every student's tuition, Hockaday parents pay an average of $10 a day for their daughter's lunch. However, 43 percent of Upper School students order carry out lunch from a nearby restaurant more than once a month.
I have had those days when I did not study for a test or do my homework, and the assignment is due next period. C period looms and I resolve to crank out as much as my brain can take during conference and lunch.  But, I love my food and I do not have time to wait in line, look at all the choices and risk getting caught up in the gossip from the weekend before. My solution? I order out because it is fast and easy.
The Greenhill School has a different system. Greenhill students, for example, can bring their own lunch or go through the cafeteria line. If a student chooses to go through the cafeteria line, a cashier punches in each individual student's I.D. Greenhill has a set price around on food no matter how much a student buys.
I propose that Hockaday looks into Greenhill's system, but only for seniors. I think Hockaday should not include lunch in the senior's tuition because the majority of the seniors go on off campus lunch, wasting their parent's money.
"I'm sure my parents are not thrilled about paying for two lunches each day for me when one is not getting eaten," senior Reed said.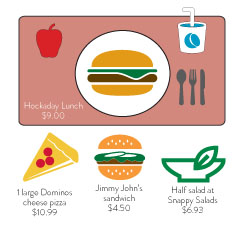 Not only are our parents paying the initial $1,440 of Hockaday lunch, but they are also paying additional dollars for our take out. Isn't it unfair to make our parents pay for food we often do not even eat?
According to a recent survey, 49 percent of Hockaday Upper School students voted that they would rather pay with a student I.D. when they go to lunch. At first agreeing with this proposal, I dug deeper to see if this proposal could actually work.
Associate Head and Chief Financial Officer MaryPat Higgins, she gave me a perspective on what goes on behind the scenes of the lunch finances.
What many students do not realize is that there is not a set amount in the tuition for lunch. Instead the tuition is one big bungle of fees that cover all costs, tuition, lunch and fees. This is one of the reasons Hockaday has not changed their lunch system before: it is difficult to plan beforehand how many Upper School students would go to lunch each day.
To handle lunch finances, Greenhill hired an outside company to come in and run their food service program. The schools will bill the parents and then 'settle up' with the outside company. Greenhill uses an outside company called SAGE.
Hockaday does not outsource; everything is prepared in-house. Counting on 1,000 kids eating plus 300 employees, combining all that money, we get better services and more food variety than Greenhill students do.
It would be difficult to do that for all the Upper Schoolers because "you would have such a big swing from one day to the next."
Whether students eat off-campus or eventually pay for lunch as they please, we should all try to go to the cafeteria more often.
As Higgins put it, collectively eating together is "kind of like uniforms." Having all the students go to lunch together creates a stronger sense of community.
-Gretchen