St. Mark's senior Phillip is the only boy allowed on the Hockaday campus. This is due to his enrollment in AP Studio Art, a class which St. Mark's students may opt to take at Hockaday because it is not offered at 10600 Preston Road. Watch the video below for a tour by him of his art cubicle.
When a boy steps on campus, it's almost as if a secret alert system activates. Within minutes, girls are abuzz, "Who is he? What is he doing here?" He stands out in the crowds of green and white plaid like, well, a boy.  Whether he's bringing lunch or just coming to visit during free time during the day, he seems undeniably out of place.
But the fact of the matter is that boys aren't allowed on campus without permission, a rule which most girls are unaware of.
"It's never something I had thought of. I guess because of musical, I just assumed that boys were allowed to be on campus, but it makes sense that they can't see us. I'm not really sure who has time during the day for that anyway," sophomore Madison said.
With few opportunities for visitors during the day time, Head of Upper School John Ashton understands the value of a special occasion.
"Often times other schools are off when we are in session, and in these cases girls are sometimes visited by boys bringing lunch. These situations are rare and so [Dean of Students Meshea Matthews and I] are more understanding." Ashton continued, "We'll come and say hello to the boys and tell them to finish their lunch, but at the same time we will remind them that that this is a closed campus during school hours."
However, many girls feel that this rule is unfair, and believe that having boys on campus throughout the day would lighten the mood during a rigorous day.
"Boys can lighten the mood in certain scenarios, we're an intense bunch, so taking a break from that could be nice during the day," sophomore Mary Margaret said.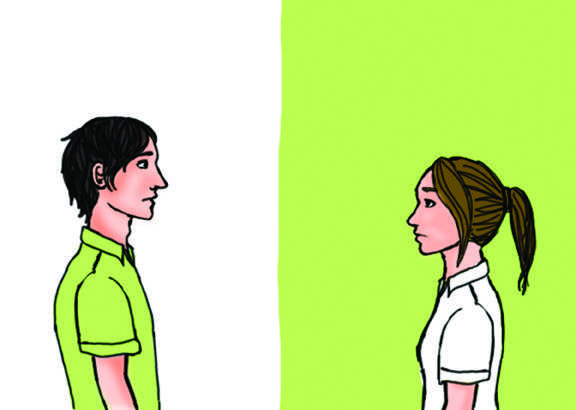 This 'no visitors' policy is enforced much more severely to male visitors, but applies to any person who may come onto campus throughout the school day.
Sophomore Tai, currently on leave from Hockaday between the time the first semester ended to the time her semester abroad begins, had to deal with this issue when trying to visit friends during their school day.
"I actually didn't even think about the logistics of getting onto campus. Since I was a student just a week ago I didn't think about feeling out of place or anything like that," Tai said. "I actually ended up not coming because I wasn't sure if I would be allowed to come, and wasn't sure how to get permission."
While these rules can appear excessively rigid to some students, they are on par with other schools in the area, including St. Mark's and Ursuline.
"We rarely have girls visiting during the school day. While seniors have off campus privileges and are allowed to meet girls outside of the campus, the other grades are not allowed to have visitors during the day," said Debbie Hornspead, the receptionist in the St. Mark's Upper School office.
The same policies are enforced but are applied more firmly at the Ursuline School just south of Hockaday.
"Young men are rarely allowed on campus during the day, they are not allowed to bring lunch and are not permitted to visit with the girls during the school day," said Steve Smith, Ursuline's security department head. "Other visitors can come onto campus, but our policy with high school boys is very firm."
– Molly