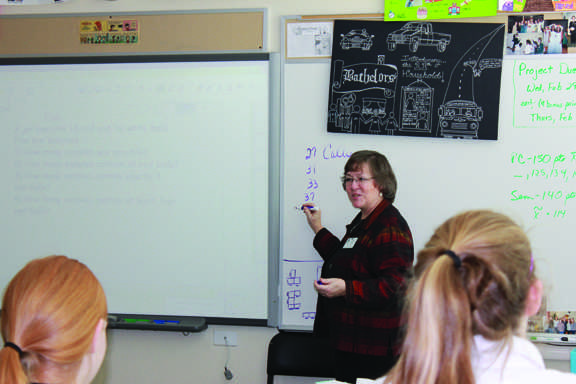 This year may be the last year the colorful recreations of past calendar photos are hung by the upper school office, displaying the determined work of math teacher Janet Reeves' students. Yet the legacy of Reeves' extravagant math projects will live on after decorating the halls of Hockaday for 21 years.
But Reeves' legacy holds much more than her unique teaching styles. Starting at Hockaday in 1991 after experiencing teaching at 3 other private schools in the area Reeves knew that something special existed at Hockaday that just felt right for her.
"I've always been in private school," she said. "But this is home."
Reeves immediately made her mark on Hockaday, beginning a tradition of math projects that would last for years to come, hoping to make a connection that took an understanding in math beyond the books.
"I like to do it because it brings together the girls from all the different grades, and it's a little way to get an artistic something into the math class," she said.
And as with the math projects, Reeves began implementing other unique teaching tools to the math classroom, broadening the learning experience to virtual webcasts.
Yet Reeves' personal achievements each year relied on the success and confidence of her girls.
"Overall, I want to be available for students and make them know that they can do it, give them confidence," she said.
And in the eyes of many of her students, Reeves met her goals with ease.
"She is not only the first math teacher that helps me understand things, she also cares about my growth and my confidence," senior Lizzie said. "I always felt discouraged in the past, and she's the one who keeps picking me back up."
Head of the Math Department Jeri Sutton can see the effects she's had on her students over the course of her time here at Hockaday.
"She is here for her students whatever the needs are," Sutton said. "She has a way of working with them to where they understand the concepts, where they have confidence in their math abilities."
After years of changing girls' experiences with math, Reeves decided to retire upon hearing the news of her daughter's pregnancy.
"I'm so excited about being a grandmother, I've wanted to be a grandmother for a long time" Reeves said.
Meredith Humphries, Reeves' daughter, is happy her parents live near by.
"My parents actually moved to McKinney a couple of years ago in preparation of grandkids, which we thought was a little preemptive at the time, but now we're glad to have them close," she said.
Yet, it is bittersweet for Reeves, finding herself extremely emotional when
discussing her departure from what she calls her "home."
"I'm torn because I can't imagine not being here," she said. "I have to totally redefine who I am, and so it's hard."
After years of involvement with Hockaday girls, Reeves plans to trade in her title as a loved math teacher for an entirely new one: a grandmother.
– Caitlin