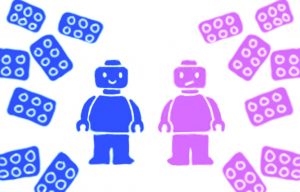 A new line of Legos aimed at fulfilling girls' interests hit stores on Jan. 1, Hockaday community reacts.
Lego Friends 2012, a new line marketed to girls through its pastel pieces and female figurines complete with back stories, has a lot of potential, say Hockadaisies who love the iconic plastic blocks.
The 23 Lego Friends sets include six new Lego colors (hello purple, green and blue
pastels!), 29 mini-doll figurines (curvier and 5 millimeters taller than the traditional boxy characters) and five "friends" with distinct activities and interests. Released in the United States on Jan. 1, these Legos are a far cry from the adventure-themed, primary-colored blocks that have been in use since Lego began producing the toys in 1932.
Second-graders Hayden and Eleanor eagerly anticipate the day they finally get their hands on the new Lego Friends, especially the figurines, each of whom comes with her own story, similar to that of an American Girl doll. The backdrop of their escapades, Heartlake City, boasts a vet's office, horse academy, salon, café and other attractions.
"It looks like actual people, and there are more things to do," Hayden said. "You don't have to build as much, and there are more Lego people. There's a little car and a pet shop. I mean that's the main reason I want them, because they have animals, and I love animals."
Lockhart likes the new sets because they provide a shortcut to what she termed "the fun part."
"I like the building," she said, "but the fun part — the thing that you do when you're done — is play with the Lego people and walk around. I think the girls' Legos have less pieces and it takes less time to build them."
In a commercial promoting the new toys, "Stephanie" and her friend are heading to a party at the new café, the "coolest spot in Heartlake City." She has just finished baking cupcakes and redecorating her pink and lavender, umbrella-adorned home built from plastic bricks. Now she's riding in her Lego convertible to pick up her other friend, "Emma," from the beauty shop.
Of the 14 students present in second-grade teacher Randall Rhodus's classroom, nine said they preferred Lego Friends over traditional Legos. While many of them have played with Legos, usually stolen or borrowed from a brother's collection, few said that the boy-oriented sets topped their holiday and birthday lists.
"My brother gets buckets for Christmas," reported second-grader Grace. "Instead I put things that have stories that go with them."
As part of its $40 million marketing and research campaign, Lego Group conducted a world-wide survey of young girls and their mothers, the company said in its Lego Friends press release on Dec. 19. The message from the masses: focus on beauty, role play, realistic details and accessories.
"Lego Friends is one of the most researched Lego projects ever and is a culmination of years of anthropological research with girls around the world to understand what they expect from a construction toy," said Nanna Ulrich Gudum, Lego Group senior creative director, in the press release. "In talking with girls and their moms, we understand that girls really want a Lego offering that mirrors what the boys experience, but in a way that fulfills their unique desire for remodeling and redesign, combined with realistic themes in community and friendship."
But older Hockaday girls voiced concerns that the company's new line reinforces gender stereotypes.
"Most girls who like Legos are used to the normal ones and don't need specifically tailored little girl Legos," said sixth-grader Camille, a member of the FIRST Lego League robotics club.
Sixth-grader Sydney said she was disappointed that the Lego Friends line emphasizes activities such as playing dress-up, baking cupcakes and sitting by the pool rather than focusing on exploring the world—a common theme in the traditional Lego sets that feature spaceships, bridges and castles.
"If you're going to build Legos, you're going to want to build something cool," she said. "You aren't going to want your little spa. You want to actually build something."
Lise Eliot, author of "Pink Brain Blue Brain," a 2009 book that discussed gender differences in children, told Businessweek magazine recently that the new Lego products are something of a paradox: they tear down the notion that girls do not like to build, yet they emphasize girly pastimes like hair primping and cooking.
"If it takes color-coding or ponies and hairdressers to get the girls playing with Lego, I'll put up with it, at least for now, because it's just so good for little girls' brains," she said. "Especially on television, the advertising explicitly shows who should be playing with a toy, and kids pick up on those cues. There is no reason to think Lego is more intrinsically appealing to boys."
Senior Natalie, president of Junior Engineering and Technical Society, agreed that targeting girls' interests in beauty and baking may be a worthy tradeoff for the spatial development, fine motor skills and imagination Lego promotes.
"I definitely think that it's good that they are trying to encourage girls to get more into the building, constructing and engineering side of toys, instead of just giving them things that are already prebuilt like doll houses and Barbies," she said. "I think it's very valuable to encourage children to start thinking that way, because it wasn't really for me until Middle School, when I got into Lego League robotics, that I started realizing I enjoyed that type of work."
Lead Science Chair Richard Abbondanzio, who teaches Lower and Middle School girls, said he promotes activities that encourage experimentation with science and engineering as early as possible. Lego Group's strategy of encouraging girls to build and play along with the characters is particularly praiseworthy, he said.
"More than anything, I think there's a higher level of collaboration that needs to be taken into consideration when dealing with girls," he said. "I think girls prefer to mix it up and listen and hear each other."
Although Lego Friends itself is not conducive enough to learning to implement in the science classroom due to its emphasis on play, Abbondanzio does plan to initiate a new program within the Lower School science curriculum later this year that utilizes group work and the Lego Education WeDo Robotics line.
WeDo consists of a collection of sets that introduce basic gearing and motor mechanics to children ages seven through 12. He said that he hopes exploring robotics and engineering at a younger age will influence girls to pursue science and technology to a greater extent later in their lives.
Parents also appreciate the encouragement of their girls to engage in creative play such as WeDo and Lego Friends. They hope, however, that the intricacy of the Lego Friends kits remains comparable to that of classic Legos.
"I personally don't have a problem with them changing it up to visually attract girls," said Jennifer O'Brien, mother of fourth-grader Cecilia, junior Mackenzie and senior Holly. "My only concern would be that they keep the complexity the same as for the boys so that the girls get the same learning benefits, the 3-D aspect and the challenge of following a complicated manual."
Jayne Wyszynski said she wished that Lego Friends existed when her daughter Katy, now a junior, was younger. Wyszynski's three sons collectively owned "every Lego there was."
"Katy did not play with Legos, probably because we didn't introduce them to her, because they were not feminine," she said. "I think Lego Friends opens up another world for them, with a feminine twist.
– Hailey