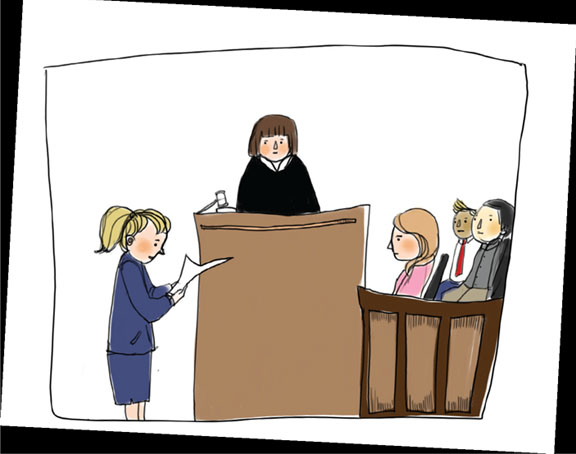 International students overcome the struggles of communicating and studying in a second language
The camera zooms in on a gavel illuminated by blue light, then cuts to the darkened silhouettes of defendants lit in the same way, this time in green and red—this opening scene in a promotional video on the website of the Irving Teen Court targets a very specific audience. This court, and others like it, is geared toward getting teenag­ers involved in the legal system on a local level.
Though there are adult supervisors, "the courts are by teens, for teens," said senior Em­ily, who volunteers twice monthly for the Collin County Teen Court. Teenage juries hear sentencing trials for teenage of­fenders, who are represented by teenage attorneys.
Volunteering with a local Teen Court is a popular com­munity service option among Hockaday seniors.
"It taught me how to speak on my feet and let me experience the legal system for myself," said Emily, who vol­unteers, along with senior Rup­sha, at the Collin County Teen Court. Seniors Jessie, Kay and Dunni volunteer at the Irving Teen Court.
Teen Courts in counties throughout the metroplex and around the nation provide an alternative sentencing option for defendants who have pled guilty or no contest to Class C misdemeanors. This class in­cludes minor offenses like speed­ing tickets, truancy and offensive behavior in the classroom.
Teen Court provides a level of community involvement al­lowing volunteers to attain a broader understanding of both the legal system and the rea­soning behind breaches of the law.
"They're getting to take an active part in [the criminal jus­tice system], as well as getting to see, possibly, a side of stu­dent behavior that they don't normally see," said Irving Teen Court coordinator Diana Soto.
Teen Courts also ensure de­fendants' future involvement with the program. As part of their sentences, defendants must serve at least once on a Teen Court jury.
Because of this require­ment, students volunteering to fulfill school community ser­vice requirements will often sit on the six-student juries along­side sentenced defendants.
"It really lets you escape from the Hockabubble for a couple of hours and talk to peo­ple you probably wouldn't have ever talked to otherwise," said senior Kaavya, who was involved in the Collin County Teen Court her freshman and sophomore years.
There is, however, a dispar­ity in the ratio of volunteers to sentenced defendants on the different types of juries. On master juries, where jurors must have valid driver's licenses or learner's permits, volunteers make up the majority, where "the sheer volume that we need in the regular courts" causes sentenced defendants to make up the majority of regular court juries, according to Soto.
Teen Court service gives volunteers and defendants the opportunity to "empathize with other types of students and kind of broaden their knowl­edge base of what goes on and of what they can do to make a difference in other student's lives," Soto said.
"You see all these things that kids do that you don't get exposed to at Hockaday," said Emily. "And on one hand, you have to make judgment calls about the offenses when you assign hours, but on the other hand, you don't feel distanced from the defendants, because you know those are the same kids who you're working with on the jury to come to an agreement about the sentence."
-Mollie