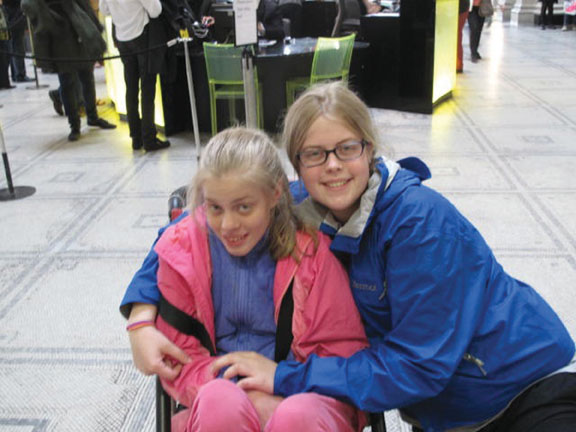 Twins Julia and Mary Claire remain close despite developmental barriers
There is a stark contrast between a 15-year-old girl with third-grade level capabilities who throws involuntary tantrums and must crawl instead of walk and a 15-year-old girl who attends a demanding private school and swims and plays lacrosse. But these two girls, Mary Claire and Julia, are twin sisters.
Before the twins were born, they were diagnosed with twin-to-twin transfusion, a rare condition that supplies an imbalanced blood flow for the babies during pregnancy. Freshman Julia was born without any handicaps. Mary Claire, Julia's twin sister, was diagnosed with Cerebral Palsy at birth, a non-progressive condition that impairs speech and motor skills.
The relationship between the twins is challenging.
"The disability kind of dominates our relationship," Julia said. "She can't talk on an intimate level at all, so it is pretty much impossible to talk about anything other than everyday stuff."
However, Julia says that their relationship is still strong. Although they cannot work out disagreements, they are like any other set of twins. In fact, Julia has managed to learn many things from Mary Claire's disability.
"I've learned a lot of patience from Mary Claire, and I've learned to deal with people not understanding or taking advantage of real problems that affect some people."
When Mary Claire was younger, she went to A Child Can Do All Things located in Dallas. This organization helped Mary Claire with her motor skills. At age 10, Mary Claire enrolled in the Conductive Learning Center, a Michigan based organization that helps her with school and physical therapy. For the past five years, Mary Claire and her mother, Pam Teeter, have travelled to the CLC four times a year, staying for a month each time.
"She couldn't walk at all before she went there," Julia said, "and now she can walk short distances with her cane."
Mrs. Teeter said the CLC has also greatly helped build Mary Claire's confidence and social skills.
Freshman Catherine, a friend of Julia's who has spent time with her twin has watched her mature.
"Over the years, Mary Claire has dramatically improved in her capabilities. She is moving around a lot, is walking more, and has better control of her emotions."
The Teeter's home is just like any other. Until their older sister Chloe went to college, Julia and Mary Claire shared a room. Their room looked like any other shared room, except Mary Claire's bed had rails on the side so she wouldn't fall off.
But it's difficult for the Teeter family to go on vacations. Last year when they went to Iceland, Mrs. Teeter and Mary Claire had to stay home because the ground was too rocky and hard for Mary Claire to walk on. Mary Claire has been able to make it to other destinations such as Disneyland, the Virgin Islands and London.
– Charlsea