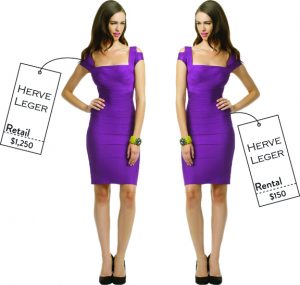 Hockaday girls save on dresses for this year's Winter Formal
For last year's Winter Formal, senior Erin donned a blue, tiered Rebecca Taylor dress–but she only paid $50 for the $395 piece, thanks to the fast-growing trend of dress rentals.
Most purchased dresses never see the light of day again after they have been worn to an event such as homecoming or Winter Formal. They face an inevitable fate of eternal confinement in the closet, never to be used again. Fifty-two percent of Upper School students usually wear these "special occasion" dresses only once. And with sites like Facebook, where almost all formal event pictures are posted, it's much easier to notice if a girl has worn the same dress to multiple occasions.
"Social media channels have in some form made us a celebrity in our own right," said Jennifer Hyman, CEO and co-founder of Rent the Runway.
To avoid spending unnecessary money purchasing a dress but still have the same experience as buying it, many girls have turned towards alternative solutions, one of the most popular include dress rentals from fashion sites such as Rent the Runway. As NBC Today put it, "It's couture without the cost."
The Rent the Runway inventory includes nearly 25,000 dresses and 4,000 accessories of over 150 top designer brands.
"We are not suggesting that women stop buying; we are simply offering a new customer behavior in the thought process—buy, borrow or rent," Hyman said.
The rental process is easy and efficient: the site allows its customers to reserve the dress (and possible accessory) up to six months in advance. Personal stylists are also available to chat with to help answer any questions about sizing or styling. Once the product has arrived, the customer has four, or eight for an extra fee, days to wear it before sending it back through the mailbox.
The site also offers to send the dress in a second size, and if that doesn't work, or if for some reason the customer is not completely satisfied with her rental, she receives a full refund.
However, sophomore Katya, who rented a dress for St. Mark's Homecoming last October, found that "what I saw is what I got."
The simple method of browsing through the dress selections and waiting for the shipment to arrive has convinced approximately one in 12 Upper School students to forgo mall stores and borrow their dresses and accessories from rental sites instead.
Many girls agree that the rising popularity of fashion rental sites is generally positive, as they have the appeal of wearing a $400 dress for only $50, or the opportunity to have a dress, even if only for a few days, that would only have been ogled at through a store window.
"We offer the full head-to-toe Cinderella experience," Hyman said. Erin has rented a dress from Rent the Runway two times, and each time has been a successful story to share.
"It's the best thing ever," she said. "I got to wear a dress most people can't afford to buy from a store."
However, this method sacrifices ownership for savings, a swap some girls aren't always willing to make. "It depends," said Katya. "If it's important to you that your dress is nice, or if you want a specific brand, or if it's an event like your senior prom, go ahead and rent it if you know you're never going to wear it again."
The idea of looking into your closet and nostalgically viewing an array of previously worn dresses is also sacrificed: "I know people who get emotionally attached, but I didn't," Erin said.
Renting dresses also means sacrificing the chance to try them on, as well as an adequate amount of time to find a backup dress in case the rented one does not prove to be satisfactory. Sophomore Regina, who once received a Rent the Runway dress of a different material than the one she expected, is hesitant to rent again and usually tries to find a dress to purchase from a store before turning towards dress rental sites like Rent the Runway.
"You have to guess if you'll like the dress, and [the dress is delivered] so close to when you need it, that you often don't have time to prepare for when things go wrong," Regina said.
Though the dress rental process functions as an option to save money that would have been unnecessarily spent otherwise, 92 percent of Upper School students still prefer to buy dresses. Sophomore Evie considered renting a dress from Rent the Runway for an event but ended up buying one instead.
"It's bad, but I like to have my dresses for myself. I like seeing them in my closet," she explained.
Nevertheless, the opportunity to wear some fashion pieces that would have been too expensive to buy has definitely opened doors to some girls. Turner plans to use Rent the Runway for future events.
"[Rent the Runway] is really good for special occasions when you don't need a thousand-dollar dress in your closet, or something you might only wear twice."
Fashion rental sites are continuing to grow more popular as women decide to wear their dream dresses without breaking the bank.
"Women are renting the runway for the most important occasions in their lives and are developing an emotional experience with the designer brand they wear on that special occasion," Hyman said. "You will never forget the hotel where you stayed at on your honeymoon, just like you will never forget the designer brand you wore when you got engaged."
– Amy