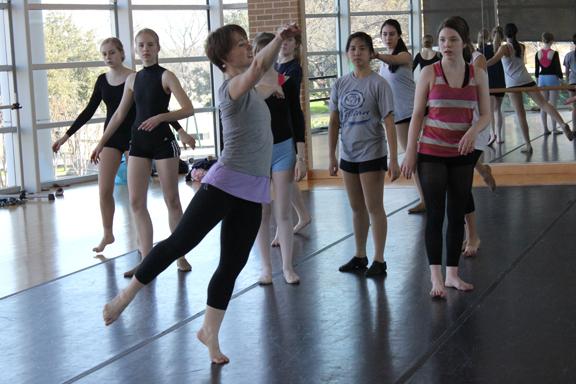 Dallas native and professional choreographer Jennifer Mabus returns home to teach Hockadance
Hockaday's choreographer residency program aims to expose the Hockaday dancers to professional dance teachers and to challenge their abilities to take on different styles of choreography. This year, Jennifer Mabus, a highly contemporary choreographer, challenges the Hockaday dance department to tap into the raw, emotional side of dance and embrace a new way of movement.
Like previous instructors in Hockaday's choreographer residency program, such as Jamal Story and Kate Walker, Mabus comes from a contemporary dance background.
"What you are around, you are influenced by," Mabus said. Her style of choreography reflects her experiences in the dance world.
A native of Dallas, she started dancing in high school as a member of the drill team. After her classical dance training at Southern Methodist University with colleague and Hockaday dance teacher Christie Sullivan, she studied under Robert Battle, the director of the Alvin Ailey American Dance Theater in New York City, and Bruce Wood, a well-known Dallas-based choreographer. Both greatly influenced her to apply her technical training to different types of movement.
After the whirlwind in New York City, she returned home.
"My family is here, and I finally decided it was time to come home," Mabus said.
Since returning to Dallas, she has found how to be a teacher and choreographer in her own right.
She reconnected with Sullivan through various dance projects, and in turn, Sullivan suggested her as this year's choreography resident. Sullivan and fellow dance teacher Beth Wortley prefer to have a close connection to the artists that they choose for this program. With her personal relationship to Sullivan, her prominence in Dallas and her passion for dance and movement, Mabus was the ideal choice.
"Finding a female dancer is important, and she's a good friend of mine. She's a really sweet great artist, and I think she will have a lot to give to the students," Sullivan said.
Beginning her three week long residency right after holiday break gave her the time to conduct a master class with each Hockaday dance level, something not all past choreographers were able to do. Before she starts to set her pieces, she likes to teach a class to get a feel for the "thoughtfulness and intelligence of the dancers," she said.
"It helped the class understand her style before she set the piece, which I believe helped a lot," senior and Hockaday Dance Theater member Eli said.
She strives for radiance, energy and flow. As the Hockaday dancers are accustomed to classes of ballet and jazz with only sporadically interspersed modern technique, her highly contemporary style was a challenge to the dancers. In spite of her petite stature, Mabus stretches her body in soft, lyrical movements across the floor and encourages her students to do the same.
"She emphasizes larger dancing that is more demanding on the body and that requires each of us to focus more on the feeling of the music and movements rather than just on the technique," senior and Hockaday Dance Theater member Caroline said.
Despite her short tenure, she was able to choreograph two pieces for the three highest levels of Hockaday dance. The pieces, to be performed at the spring dance assembly on April 19, are centered on the idea of hope. Like a theme in poetry, hope is the inspiration for the two pieces. The first dance is meant to be darker and more gloomy and the second happier and more joyful.
In keeping with the theme, Mabus asked the dancers to record their personal definitions of hope as well as things they hope for to play over the instrumental music she has chosen.
"[It] will make it a very powerful piece," Dickens said.
Mabus loves to create dance "with a lot of heart and physicality and humanity," she said. When a piece of choreography manages to touch someone because of that "something human," she said, that is when it has succeeded.
– Mary Clare