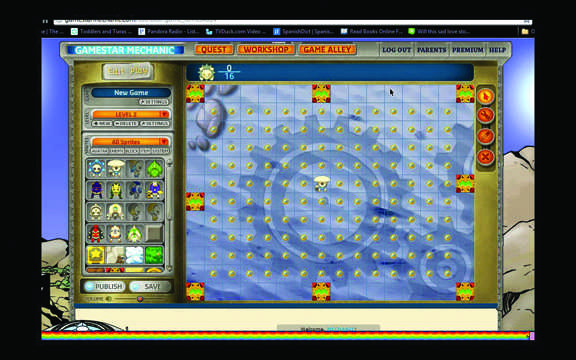 Sixth graders enrich their learning by designing video games using a program called Gamestar.
Middle School science teacher Patti Black has her sixth graders riveted with one simple word: Gamestar.
Gamestar Mechanic, an online game community, teaches students the basic principles of game design, and Black is using it to illustrate the bacterial system within a fish tank. She wants the girls to first design a game that demonstrates their understanding of the aquarium cycle and then play each other's games before letting the girls proceed to the hands-on part of the unit.
"Everything you do is kind of designing in your brain. I really think this is a good way to hook learning onto something," Black said. Through Gamestar Mechanic, girls exercise their spatial reasoning skills as they think in terms of multiple dimensions.
Black is using this as a trial for possibly incorporating the games into future science programs.
When designing games, girls have to think from both a player and designer's angles. Obstacles are strategically placed to increase the difficulty of the game, and girls must consider how players can get their characters to go around them.
Each game has to show both the positive and negative impacts of a different cycle.
In their games, players are encouraged to defeat enemies. Katya Hott, Learning Content Producer at Gamestar Mechanic, believes that "if you think about blasting enemies in a fictional, non-representational world as a means of problem solving or managing resources, it does not seem so violent."
Sixth grade student Claire doesn't particularly find the games violent either. "Even though there are some avatars that shoot people, I don't think they're violent—they don't look violent, and I don't think they'll encourage people to be violent."
Since these games are available to anyone on the web, the girls can receive comments and feedback on their creations. These are monitored by both Black and Gamestar Mechanic.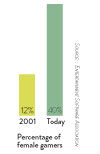 "We look through all flagged comments and take down the ones that violate our code of conduct," Hott said.  "We take this very seriously, as Gamestar Mechanic is meant to be a safe place for people to share and review games."
Since the girls can get hooked on these games, Black emphasizes to the girls that homework must take precedence over playing video games—which is a problem Gamestar intends to take care of. According to the company's website, a timer system will be introduced shortly which parents and teachers can use to set how long the child is allowed to play.
Though the games have been incorporated into the curriculum only recently, the girls have caught on quick. Black commented, "I'm still worried the games are too advanced for me!"
– Elie