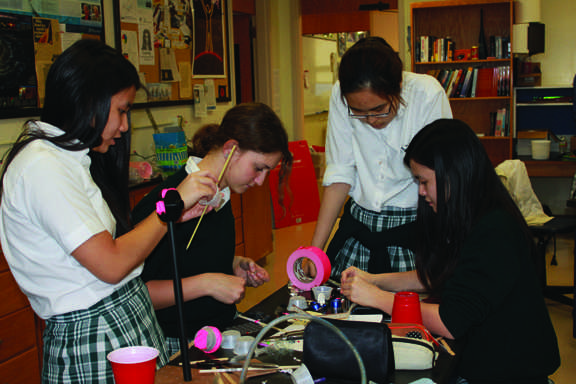 Junior Annabel parks in the faculty section of the Forest Lane parking lot. This is not the norm. In fact, for a month, this coveted spot isher prize for winning a challenge to "make something engaging," Upper Schoolscience teacher Leon de Oliveira said.
On Jan. 23 from 2:25 p.m.  to 5:30 p.m., de Oliveira and fellow Upper School science teacher Murray Gans hosted and supervised the first ever Hockaday Make-It Challenge, open to all Upper School girls.
Spearheaded by de Oliveira, the objective of the challenge was simple: in groups of two to four, design and build something. The rules were even simpler: there were none. Students had to use what they were given and barter or trade with other teams to get anything else they wanted.
The idea of this challenge was adapted from a similar challenge de Oliveira read about in Make Magazine.
"I thought it would be really interesting to see what [they] could come up with," de Oliveira said. "I thought that the students would really enjoy it and have fun with it."
Other than the obvious fun of tinkering around rather than doing homework, a larger perk lured participants. The winner of the challenge would win a reserved parking spot to be shared between the winning team members for a month.
Math Department Head Jerri Sutton and Mass Communications Department Chair Ana Rosenthal served as judges, making their decision based on form, function and entertainment value. Each device was also judged by de Oliveira based on how long it engaged the judges.
Seventeen girls from all forms arrived to compete and divided into five teams.
When the clock started, each team received a cardboard box filled with miscellaneous items: a calculator, red plastic cups, a sub mini-action switch, a DC buzzer, dowels, plastic tubing, a mini flashlight and a toy helicopter. They also had access to the myriad supplies
that lined the back counter of the room: from essentials like duct tape to more obscure items like bubble wrap.
"We had no idea where to begin, and I had absolutely no experience with the LEDs and other electrical things they gave us. I had never been in a situation where I was given so many random things and just told to create," sophomore Anna, who participated in the challenge, said.
In a short time, elements of their designs were already in taking shape. Minds worked together to make the electrical components functional.
"They had one of the buzzers buzzing three minutes in," Gans said.
Using tools to saw boards, hot-glue popsicle sticks, solder wires and dismantle calculators had their risks. The sophomore team made up of Kellen, Channing and Anna suffered burns.
"We're hot messes," Channing said. Despite the injuries, the team kept working.
By the end of the competition, devices from all teams had taken shape. They included a robot named Betty, a mini amusement park, a plant watering device, a skee ball game and a wooden helicopter. They moved, lit up and made noise.
The contestants left the room while the devices were being judged.
"I was thinking at first that there would be people in there to show us how to do things," Sutton said, "but there weren't, so we had to play with them and figure them out, which was fun."
After deliberation by the judges, results of the competition revealed the winning teams. The junior team of Rebecca, Mannhi, Rachel and Emily won the prize for the most engaging device, based on the length of time it occupied the judges' interest. The team made up of senior Rachael, junior Annabel and freshman Kathryn won the judges' prize, based on the form and function of their device.
The junior team won the parking spot, but, because none of them have cars, they deferred the spot to the other winning team. Lyman, however, is the only member of the other winning team who drives to school, so she enjoys full privileges to the parking spot.
– Mary Clare