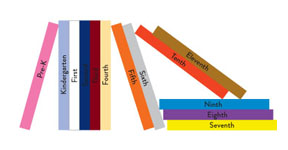 The admissions department discusses their criteria for tough decisions, and it's not all about the academia
Answer a questionnaire. Write an essay. Take a test. Submit a teacher's evaluation. Sit through an interview. Visit the school campus.
Applying to Hockaday is no mystery to the 1,086 girls of 11600 Welch Road, but the selection process taking place at the end of the administrative hallway is more hush-hush.
Last year, 825 girls applied for admission to Hockaday for the current school year. However, only about 150 girls were accepted, leaving the remaining 675 girls either waitlisted or denied. This 22 percent acceptance rate is comparable to the 59 percent acceptance rate at Southern Methodist University and 10 percent acceptance rate at Columbia University, according to The College Board's website.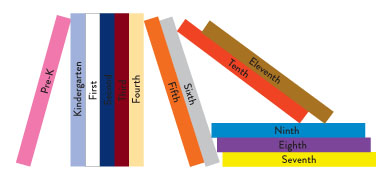 The admissions committee comprises of the admissions office, teachers from the school divisions, Division Heads and Eugene McDermott Headmistress Kim Wargo. Admissions committee meetings began reviewing applications last month.
"They look at all the [applicants'] folders to see, 'is this a good fit for this girl?'" Assistant Head for Enrollment Management and Strategic Initiatives Jen Liggitt said.
A "good fit" at Hockaday varies from girl to girl. While academic achievement is notable, it is not the most essential element of a potential Hockadaisy.
"We don't weigh the different areas because we look at everything on the applicant's file," Admissions Associate and Middle School Coordinator Cathy Bruff said.
The committee then takes the "yes" folders but often have more qualified applicants for each grade level than there are spots for. To make their selections, the committee tries to determine who would be the most valuable contributors to the school. Then, decision letters are mailed.
"Waitlisted" means the girl is a good fit for Hockaday, but space is limited: thus, in order to
determine the fine line between "accepted" and "waitlisted," much is weighed on academic grades, teacher evaluations and testing scores.
Each year, only about 10 to 15 waitlisted girls become "accepted" after decision letters are sent out in March; a girl can be waitlisted up until the beginning of the next school year—then, applications begin for the following school year.
Legacy, such as an alumna mother or a sibling who attends Hockaday, are considered in the application process. Usually, if two potential applicants have "equal" abilities, the legacy applicants would receive the open spot.
But with so many qualified applicants, decisions are often tough to make.
"If we're looking at two girls for one spot who seem to have a number of equal aspects to their files—for instance, interviews, teacher evaluations, grades, community service, extra-curriculars—the difference in test scores could be a deciding factor," Liggitt said.
Ethnicity is also considered in the admissions process. Currently at Hockaday, 36 percent
students are students of color. Hockaday defines "students of color" according to the National Association of Independent Schools' Racial and Ethnic Classifications document: "individuals who are permanent residents or U.S. citizens and belong to one of the following racial ethnic groups: African American, Latino/Hispanic American, Asian American/South Asian, Native American, Middle Eastern American, and Multiracial American."
"We're interested in having a diverse student body, not only from the point of view of ethnicity but also economically," Liggitt said. Eighteen percent of students receive financial aid; $3 million was granted to students for the current academic school year. However, Hockaday is need blind, meaning it does not consider or know the financial situation of a candidate when deciding acceptances.
"If a girl is qualified, we want to make sure she can be here," Liggitt said.
Because financial aid is need-based, the family must demonstrate need. They submit a financial statement to the School and Student Services (SSS), who reviews their economic standing and recommends to Hockaday the amount the family can pay. Hockaday keeps monthly income reports in the student's individual file, but not all of the financial information given is always added to the file.
Liggitt and Associate Director of Admission and Lower School Coordinator Cyndi Lewis review every file to determine how much of the tuition the family can pay, and then a committee reviews every file again to see if the amount recommended is the amount granted.
"No one gets 100 percent. We think every family needs to have some part in the education of their child," Lewis said.
But some applicants are denied. Formal letters are typically sent, unless the denied student has a connection to Hockaday through a faculty or staff member. In such cases, a call is made to the faculty or staff member first. Sometimes, parents schedule appointments with Liggitt to discuss why their daughter was denied.
"I think they learn something about their daughter through the process," Liggitt said.
The country's overall economy also affects admissions decisions. The admissions department decided before the 2008-2009 school year to increase each graduating class to about 120 girls.
"That was during the economic crisis, and we had a really strong, good class of students applying, and we didn't necessarily know if everyone would be able to come back because of the economy, so we decided to take a few more students, which worked really well," Liggitt said.
In Middle and Upper School, the admissions committee "definitely look[s] for the academic fit first," Liggitt said, because of Hockaday's rigorous academics. "It's kind of like a puzzle…you want a lot of different girls who are interested in different things."
As with all aspiring students, students have to love pursuing their academic interests.
"We like to see girls with a passion for learning," Upper School Admission Officer Katie Hollingsworth said. "Someone that's smart, academically is prepared to come into Hockaday and is prepared to excel."
Following Pre-K, the ninth and fifth grades have the largest applicant pools. Because some schools end with fourth grade, there are significant numbers of fifth grade applicants. Even more students apply for ninth grade because it marks the beginning of high school.
"It seems like ninth is the big year," Liggitt said. Last year, Hockaday received 110 applications for ninth grade. With America in an economic downturn, people may be more willing to pay for four years of high learning rather than eight.
In total, 253 Upper School and 239 Middle School applications were received last year for the current school year.
Unlike Lower School, where there is a set number of girls per class (36 for Pre-K; 48 for
Kindergarten through fourth grades), Middle and Upper Schools can afford to allow the number of students per grade to fluctuate.
Between 150 and 170 students visit Upper School each year, including boarders (the only applicants who can receive early decision letters). While visitations are optional, student interviews are mandatory. The admissions office, division teachers, department heads, some alumna and retired teachers conduct interviews.
During interviews, Liggitt tries to ask questions that "would make them feel comfortable, what they like to do, what is their passion—what really sparks their interest?"
The admissions office reviews the questions every year. Some of the questions are typical, such as "What are your favorite classes?" while others are more serious, for example "If you were to come to Hockaday, how would you be involved?" and some veer towards quirky—"If you could text anyone in the world, who would you text?"
Most students answered Obama.
"You kind of get a picture of them after you talk to them in an interview," Liggitt said. "That's the fun part, getting to know these girls…It's really interesting."
The busiest months in the admissions office are January and February. Deadlines for Lower School applications were Dec. 9 while Middle and Upper School applications were due Jan. 13. On the last day of deadline this year, 75 Lower School, 20 Middle School and 14 Upper School applications were received.
"[Admissions] are a really interesting part of a school," Liggitt said. "I've been here for 20 years, so I've been a part of admitting every girl in the school, so that's pretty neat."
– Tiffany