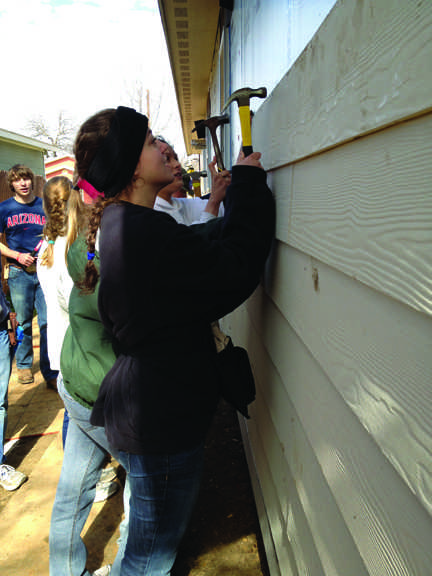 Tonya Gipson, married and mother of two sons, said "her life was changed" after she moved in her Habitat for Humanity house. The Gipsons lived in a rented house close to the one they live in now.  In 2009, Hockaday and St. Mark's began building this family's home. As required, the family went every weekend to help build the house, but they didn't mind. The husband and wife worked during the eight week period to make sure their house was perfect.
"My favorite part of my house," Gipson said, "is everything, everything is just perfect. Words cannot describe how happy I am; just overwhelmed and excited…I can now show this house is mine."
For the first ten years of his life, Maria DeLa Cruz's son lived in a small apartment.
Maria, the third recipient of the Hockaday and St. Mark's Habitat house, did not want to see her son growing up in such a small living space. She applied for Habitat for Humanity and became a neighbor on Homeland St. in 2010.
Cruz said that she is so thankful for her new house, "especially the kitchen…I love to cook." Her son said his favorite part is "having [his] own room" because it gives him more privacy and a better living space.
Since then, Hockaday and St. Mark's have collaboratively built three more houses and are currently at work on their fifth. They have built houses for the Cruz's, Juan and Irma Zamarripa, Lamonica Burns, Gipson and Patrick Robledo.
Building a Habitat house is an eight-day process, taking place every Saturday for eight weeks. The first, second and third days are construction which consists of connecting the pre-built walls to the slab, placing brick flashing, bracing walls and inserting windows. On the fourth and fifth days, builders finish loading shingles onto the roof. They paint on the sixth and seventh days. By the end of the eighth day, the house is completed.
Hockaday and St. Mark's began building the houses because generous families from the two schools decided they wanted to have a project that would not only make a difference in someone's life but also involved both schools. Thus, the Hall, Hicks, Michel and Winston families contributed the funds needed to set the project in motion.
David
Michel, father of freshman Elizabeth, said that when his son was a freshman, he
and his wife Deborah Michel "wanted to start a community service project that
would be carried on for many years."
To apply to Habitat for Humanity one must be a legal resident, prove steady income, have good credit and earn a monthly income that falls between minimum and maximum limits
sustain a savings account. In addition, the family is required tso be on the worksite building his/her home, make an affordable down payment, make timely mortgage payments and attend homeowner education classes.
Currently, Hockaday and St. Mark's are building a house for the Zamarripa family. Juan and Irma have three kids: Julio, Paola and Irma. For the past 10 years, this family
lived in a one bedroom apartment. Building the family a house will change their lives completely, allowing them to live in a safer neighborhood with more privacy. They are very grateful to have Habitat build their house with the help of Hockaday and St. Mark's students.
Volunteers and new neighbors will come together on Feb. 25 for the last day because it is always filled with celebration, joy and Burger House. The last day is dedication day when the Hockaday and St. Mark's communities give the new family gifts such as wine, bread, salt and a Bible.
– Gretchen