What you should know before filling out your college basketball bracket. It's that time of year when everyone gets tense and hopes everything works out as they put it all on the line. No, not exams. March Madness.
At Hockaday, it seems that none of students seem to take note of the NCAA Tournament, more commonly known as March Madness, one of the biggest sporting events of the year.
While this process can seem daunting, I luckily had my sports fanatic of a brother with whom I could consult.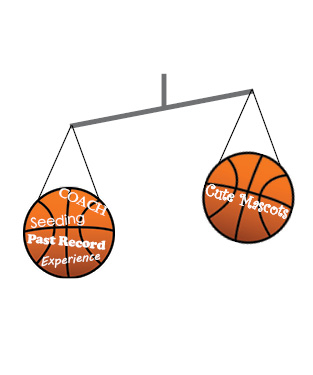 One team competes from each of the thirty-one conferences, giving smaller schools an opportunity to prove themselves and shake up the status quo.
The bracket consists of four regions, West, Southwest, East, Southeast, with sixteen teams each. The groupings of teams are not necessarily based on the geography of a school; for example, Duke last year was in the Western region. The winner of each region earns the right to a spot in the Final Four.
This year, the men's Final Four will be held in New Orleans, Louisiana on April 2. But before the tournaments come to that point, predictions must be made.
What makes this tournament so fun for audiences is not only the basketball, but also the fun of making a bracket to predict the, winner. School spirit and sports knowledge are put to the test.
The timeline for those making brackets is as follows:
First, watch the regular season of college basketball. This is already underway, so if you have not kept up with the season so far, go onto ESPN.com or talk with Mr. Kramer or Mr. Einstein about the games you missed. They both seem to think University of Kansas is definitely one of the stronger teams and will do well in the tournament.
Next, selection sunday occurs on March 11. On this day, all sixty eight teams are
seeded into the Western and Eastern conferences.
Finally, National Bracket Day: On March 12, you must chose your final bracket. And there's no going back from there.
After this, you just have to sit back and enjoy a lot of intense basketball games.
To make an informed decision, one can glean information from online analyses. If
you're really taking your bracket seriously, here are some tips for success:
The top three teams of each region almost always produce the winner.
Teams with more experienced players fair better in the tournament. Coaches with experience also tend to do well (look at Duke, UNC, UConn, and Syracuse).
Ninth seeds generally beat the eighth seed in the opening round, so don't always
assume a team seeded lower will lose if the rankings are close.
Check the team's injured players.
Knowwhich teams are prone to "upsets." For example, this season Vanderbilt lost to the underdog Cleveland State. This tournament is anyone's ball game and an upset-prone team will probably disappoint you under pressure.
Conversely, know which teams caused those "upsets." They might be your underdog and key to success.
Look for home advantages.
The chances of predicting every game correctly are 1 to 5.7 billion, though, so don't stress perfection.
Often, my bracket, shamelessly picked based on my favorite colleges or the cuter mascot, beats my brother's meticulously researched one.  Of course, you could always pick the teams based on which team has the cutest player.
It's also fun to base it off of mascots' real life ability. For instance, would a Quaker beat a Fighting Irish? From my knowledge of both from APUSH, I would say a Fighting Irish could most likely pummel a Quaker. It's like real-life rock, paper, scissors.
No matter how you decide on your bracket, get excited for a great series of college basketball starting on March 12.
– MEGAN