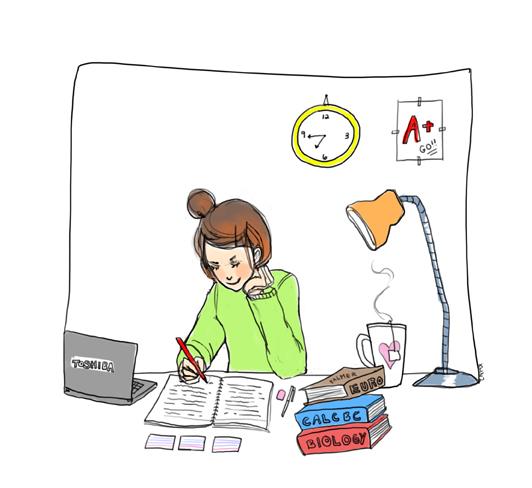 As a veteran of three Upper School exam cycles, I feel like I have some relevant experience in studying and stress. In the following column, I've condensed my accumulated wisdom into five simple suggestions:
1) Make a schedule.
Regardless of whether you have two weeks or two days (or two hours) until an exam, creating a schedule is always worthwhile. It will help you organize your studying so that you can use your time more effectively. Start by making a list of all the topics that will be covered on the exam – talk to your teacher about this if he or she hasn't already gone over this in class – and group them by how familiar you are with each. Plan to spend the most time with the topics you know the least about and begin reviewing them early.
2) Have a plan for your study group.
In my experience, study groups are extraordinarily useful: if you don't understand a topic, you can ask for help; if you do understand a topic, you can review it by explaining it. A key to success here is that you need to go into a study group meeting with a goal, or a plan for what material you are going to review. Otherwise, it's too easy to get distracted and become unproductive.
3) All exams are not created equal; don't treat them as if they were.
Don't study for all your exams using the same methods. History is not French is not Science.  Memorizing equations alone won't work for Math; learning vocabulary well is key for Spanish. Similarly, don't put the same amount of time into every subject. Feel confident about your trigonometric equations, but unsure about the historical trends you need to know? Spend more time on History than Math. Use your time strategically, especially as you get closer to the exam days.
4) Study before bed – but don't study instead of sleeping.
Reviewing material just before going to bed has been found to increase students' recall of the material. However, replacing your sleep with a few extra hours of studying will hurt your test performance the next day – and the next and the next. Studies have shown that pulling all-nighters decreases your reasoning abilities for up to four days. During exams, it's tempting to drop everything and study, but it's a bad impulse. Both exercise and a balanced diet have been linked to improved scores.
5) Don't stress about what you haven't done.
There will always be things that you didn't review or don't feel absolutely solid on. Everyone feels a little fear going into the test room, no matter how well-prepared she is. If, five minutes before an exam begins, you're not completely sure about the causes of the Industrial Revolution, or you forgot the imperfect subjunctive conjugation pattern of –ar verbs, don't panic. Instead, mentally review what you do know. You've studied hard. You've studied smart. You've studied well.
– Kay