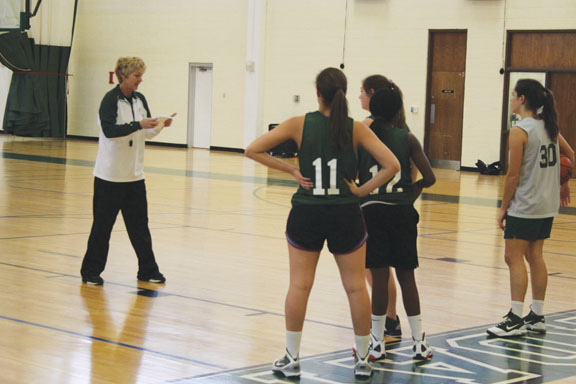 Tina Slinker coaches basketball for the first time this year
With the final score of 47-24, the Hockaday Varsity Basketball team prevailed in its last home game of the season against the Episcopal School of Dallas on Thursday, Jan.26. Despite losing eight senior players from last year, the team did not slow its pace with and earned 13 wins by the end of January.
Director of Athletics Tina Slinker is coaching the team for the first time and has provided the guidance that has allowed them to enjoy these victories.  Prior to coming to Hockaday, Slinker coached 30 years of high school and college basketball, giving her the ability to detect potential problems and make plans to correct them.
"Since the team is still young, I just try to make it simple in what we do. But what we do, we do it well," Slinker said. "And that's the challenge in being the first year; second year they all already have all of that knowledge of a system, my system, as opposed to a different system before. So we will be so much further ahead next year, but as far as this year, groundwork and implementing a new system has been probably our biggest goal."
The team's achievements this season are the result of their daily hard work. The team's schedule sheet is intense, but according to Slinker "it's not the hours you put in, it's what you put in the hours."
Slinker breaks down her overarching goals into small elements for each day's practice but junior Jordan noticed that "the intensity this year was an obvious change from last year."
A close relationship among the team members has also been instrumental to the  team's success. Under the leadership of junior captain Margaret Merrick and senior captain Sarah Stites, Slinker said the team is "just like a family;" all the members are committed to one another.
Team manager junior Lulu Wang was intimidated at first by the coach's high expectations. But she soon found herself attracted to the coach's charisma.
"Coach Slinker has the kind of humor that is funny but to the point," Wang said.
Slinker describes her experience with the Hockaday Varsity Team as "exciting."          Demanding but caring, Slinker gets the entire team focused.
"I want them to learn more than just basketball. I want them to learn life," she said. "They can take what they learn on the basketball court into their lives because there are a lot of parallels between sports and life."
– Cassie