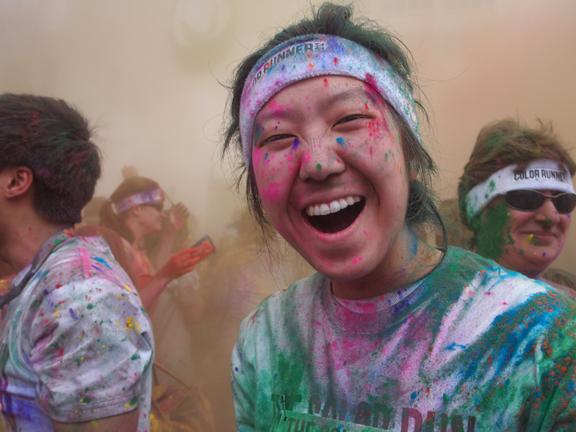 On Feb. 18, a group of more than 30 Hockadaisies ran or walked in the Color Run, a 5K at Fair Park in Dallas benefitting the American Heart Association. Seniors Erin and Abigail are to thank for Hockaday's abundant representation at the colorful event.
"I saw an ad for it on Facebook, looked into it and told Abigail about it," Turner said."We became determined to form a big team to all do it together…and it was awesome!"
According to senior Nina the event was a sensation and participants enjoyed themselves from beginning to end.
"I don't know who thought of the Color Run, but they're genius," she said.
As the "runners" completed the race—whether they walked or actually ran did not matter because it was a non-competitive event with no timing—they were covered from head to toe in splatter paint and colored powder. It was a bonding experience for the runners as they all shared one common goal: cover yourself in as much paint as possible.
"It felt sort of surreal—everyone just laughing with each other while running, junior Evi said."Everyone wanted to just get covered in colors and be silly together…complete strangers came together and just had fun to support a great cause."
Senior Megan appreciated the opportunity to have some childish fun while raising money for the American Heart Association.
"I loved how the atmosphere brought all kinds of Dallas-ites together with this seemingly juvenile but quite liberating activity," she said. "I have always envied how communal other countries are, and the Color Run showed me that we can embrace one another, temporarily forgetting the American hostility toward strangers."
With the unique twist of adding splatter paint to a 5K race, the Color Run demonstrated to participants how to push aside their worries for a few hours and enjoy the company of one another.
In other words, as Megan said, the Color Run was "da bomb."
– Hunter