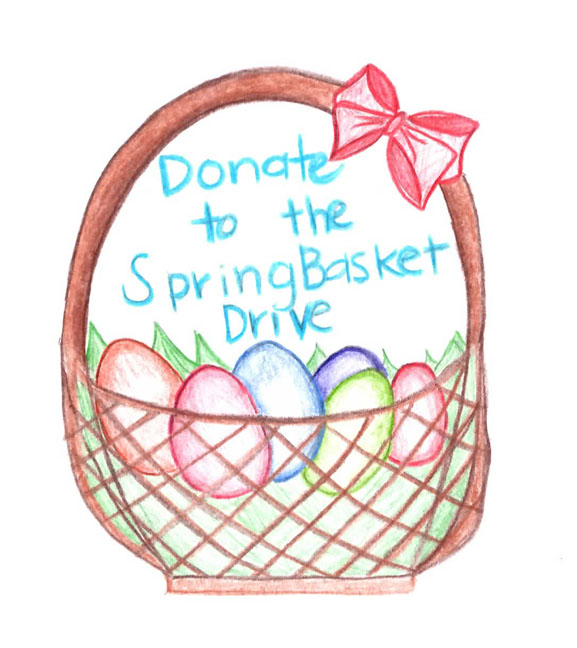 Each year after spring break, the Community Service Board asks all Upper and Middle School students to pitch in various items to create one to two spring baskets per advisory. This year, the spring basket drive will benefit organizations including: Jubilee Center, David's Place, The Salvation Army, Genesis Women's Shelter, New Beginnings Center, Dallas Life and J.C. Phelps.
Students may contact Laura Day or Sarah Satinsky in the community service office for more information on the above organizations.
Students will notice that new items have been added to the list for the 2012 drive. After considering the most vital needs of the Dallas community, the Community Service Board decided to replace the usual candy and Pez Dispensers with socks, underwear and diapers.
"I've had multiple conversations with the organizations that we're giving the stuff to," Community Service Direction Laura Day said, "And many kids are going to school in the same pair of underwear all week long, because they can't afford to get any other underwear. So that's why we thought we should add those items into the spring basket and give these to the communities, so that they're getting something they need."
Community Service Board Co-Chair Olivia anticipates a successful year for the Spring Basket Drive, especially after the exceptional participation in this year's Teen Gift Drive in December.
"We are so grateful to all of the students who are bringing and have already brought in donations for the spring basket drive. It really does make the kids we distribute to ecstatic," Olivia said. "The teen gift drive was such a success, so I know this one will be as well."
With the deadline for donations on Monday, Apr. 2, there is still time to go shopping for a spring basket contribution for someone in need this spring.
Needs include:
Easter Basket
Coloring Books and Crayons
Plastic Eggs (with candy inside)
Stuffed Animal
Toothpaste and Toothbrush
Small Toy (yo-yo, jumprope, puzzle)
Chocolate Bunny
Grass
Packs of Socks and/or Underwear
Diapers
– Hailey