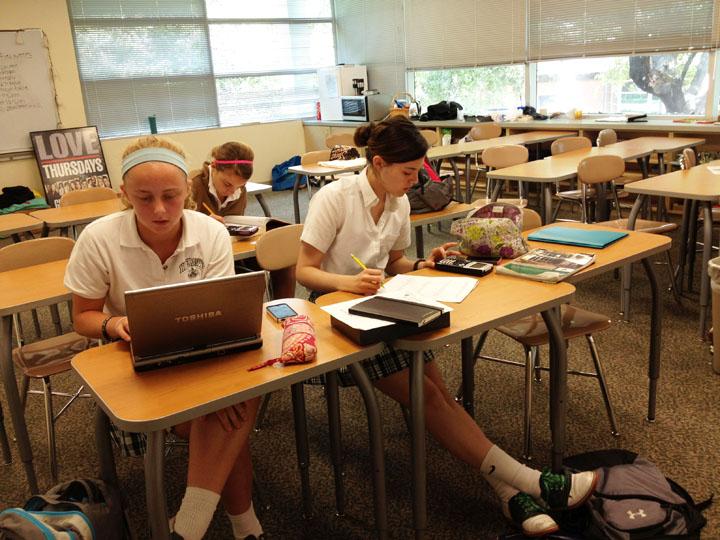 On Thursday and Friday, Apr. 29-30, over half of the Upper School students traveled to Greenhill for the Independent School Association of the Southwest (ISAS) Fine Arts Festival. In past years, the rest of the girls remained in school for the two days, and over the past three years, Hockaday has implemented new systems to try to deal with the large number of absences and entertain the attending girls.
In an email to US Notices, Head of Upper School John Ashton said, "Due to over 50 percent of Upper School students being involved in the ISAS Fine Arts Festival, classes will not meet on Friday." He hopes students will take advantage of the free time to "work or meet with a teacher."
Senior Haley, a member of the Cornerstones staff, has never attending ISAS during her high school career. While she says "I wish could have gone to ISAS because I enjoy watching and comparing other schools' fine arts to our own," she has enjoyed the opportunities offered in place of ISAS.
ISAS does not have a large of an impact on underclassmen since these grades are less represented as ISAS. "ISAS days were not a huge deal, because a lot of girls in my grade did not qualify to go yet, so we continued our classes like normal," Haley said.
For the 2010 ISAS Festival, during Haley's sophomore year, the Upper School girls could sign up for various activities for the day, from community service to how to understand football with History Department Chair Steve Kramer. This was Haley's favorite ISAS day, especially "Mrs. Sutton's cake decorating class" that she attended.
However, she calls this year's solution of completely cancelling class on Friday the "best organized and most compromising year so far." Students will attend regular classes on Thursday but are not required to come on Friday.
"It is pointless to have school when almost all the students in your class are gone, which happened last year because ISAS was longer since it was out of state," Haley said.
Juniors Kaitlin, Ashley and Ramie plan to go see the Hunger Games on Thursday night, then have a picnic at the Dallas Arboretum on Friday afternoon. Ramie said, "I'm really excited to have this day off so that we can do stuff we couldn't usually do on a Friday, like have a picnic."
– Megan