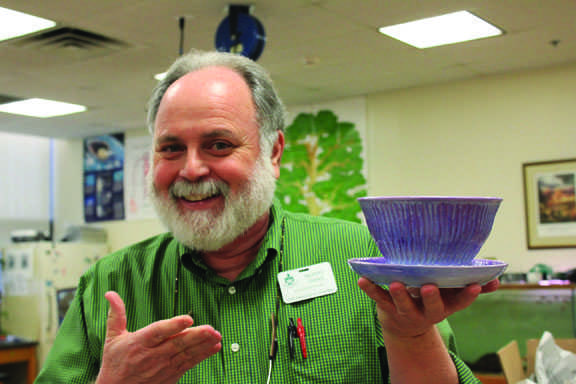 Faculty members Murry Gans and Elia Kochan pursue their artistic endeavors
Desk cluttered with papers, bookshelves lining the wall, books and science-related knick knacks scattered about, Murry Gans's office is what one would expect of an Upper School science teacher. But dotted around his office, easily mistaken for simple decorations, are vases, cups and miniature art sculptures. These decorations, or more accurately these pottery pieces, were made by Gans himself.
Gans's artistic inclination began in his childhood.
"I had always wanted to do something artistic. When I was in high school and a little bit in college, I played the French horn. I was in acting and I sang in what was called the glee club," Gans said.
His pursuit of a career in the arts ended when he realized he "found that I didn't really like the performing arts too much. I always got nervous." He then turned to the sciences, eventually teaching for 34 years.
Gans isn't the only staff member whose career turned out differently than planned.
Before Elia Kochan's career path turned to coaching, she believed she would be an art teacher. She received her art major from Syracuse University but was offered a job as assistant coach. She said, "I was offered an opportunity and couldn't pass it up."
Her career had already begun to change, but it didn't become clear and definite until after the head coach she was helping left. At just 22-years-old, Kochan was made head coach of two programs.
Despite their careers unfolding differently than they had planned, both Kochan and Gans were able to maintain some of their artistic backgrounds.
Kochan said that she loves coaching but still maintains some of her artistic side, taking time to sometimes draw and often paint.
Some of Kochan's players such as senior Avery, are aware of Kochan's art major. Avery, co-captain of Varsity Lacrosse, said that she hasn't seen much of Kochan's art except for her "stick figures which are still better than average, but she hasn't talked much about [her artwork]."
Nine years ago, Gans also rekindled his interest in the arts when his wife encouraged him to take a pottery course.
"Pottery is something that always intrigued me," Gans said. "When I got my hands on clay, I knew that was I wanted to do."
Through classes, he had acquired the necessary skills but lacked his own tools, so Gans made pottery at Hockaday, using the wheels in the ceramics room. Ceramics teacher Kevin Brady helped fire his pieces.
Several years ago, Gans decided to build his own pottery workspace, converting his daughter's play space into a shed in his backyard.
"I spent literally two months sweating and cutting boards and moving things to the backyard. I even have a sign over the shed," Gans said. "My 11-year-old daughter just grabbed a piece of leftover lumber and she wrote 'Murry's! Pottery!' on it. It has been there ever since."
Gans spends his summers in his shed molding lumps of clay into pottery pieces, accompanied by his dogs Chris and Mimi. He said, "My pottery shed is not air conditioned or heated so I really can't make pottery during cold weather or in the winter. During the summer I go out in the mornings at seven and I work until about noon, or when it starts to get close to 100 degrees. I have to work around the elements."
Although he has made hundreds of pieces—too many to count—each one falls into one of two categories.
"I've found that I only like to make two things: functional items, like cups, bowls, plates and canisters, and little monsters," he said with a laugh. He explained that he started making the "slot-bucket monsters" because he didn't want to throw away leftover clay.
Gans and Kochan each have their own jobs, their own professions. But despite their different occupations, they both share one thing: their love of art.
– Courtney