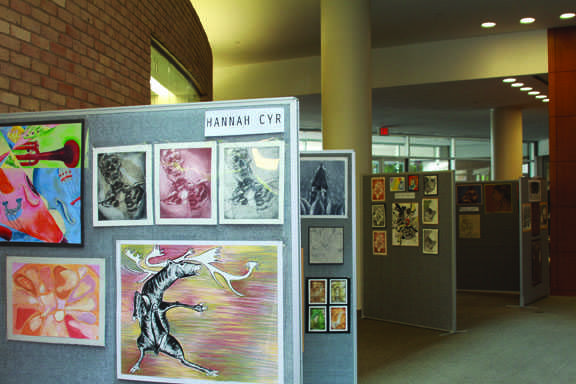 The former Honor the Arts celebration has revamped its schedule to include cake balls, moved its location to the Academic Research Center's atrium  and changed its name to the far more engaging "Art Attack." Held on April 16, this year's Art Attack reception will display work from AP studio art students' portfolios.
Despite efforts to increase awareness among Hockaday students, students featuring work realize that this is one of the only times that the Hockaday Upper School visual arts program will receive recognition.
Sophomore studio art student Alexandra attests to the importance of the day, "it brings awareness to the visual arts, especially studio art." While she mostly enjoys "being able to walk by your own painting and say 'I made this,'" she believes that few people know about Art Attack.
Before its transformation into Art Attack, Honor the Arts celebrated music and the visual arts for more than 20 years. AP studio art teacher Juliette McCullough said the gallery of visual art students' work is one of the year's most important occasions for her students.
"As visual artists, we're quiet people and we don't do a performance where we showcase our creativity," said McCullough. "All over the world, artists tend not to be noticed…That's why when you have a gallery opening you have a party and invite everybody."
She has a similar vision for Art Attack. "It's like a gallery opening…to honor all the visual arts students and everything creative they've done all year."
AP studio art student senior Caitlin looks forward to sharing her work.
"As art students, this show is the only opportunity we have to share our portfolios with our friends and family. You could say this show is our 'Fiddler.'"
While art students appreciate the efforts put into the gallery, they note discrepancies in other forms of recognition and hope for change in the near future.
Caitlin believes that Art Attack is not well known and that the Upper School visual arts program doesn't receive the recognition it deserves.
"It takes a different mindset to judge a piece of art versus an orchestral performance or a musical. I think people just don't realize how much work it takes for us to create our art or how every student has a different artistic style," said Caitlin.
AP studio art student and Convocations Board Head senior Hannah agreed that the visual arts program does not receive enough recognition at Hockaday. Since it is considered a "big topic in my studio art class," Hannah brainstormed with others, such as Convocations Board, on ways to shed more light on this less-recognized side of Hockaday fine arts.
While Hannah appreciates the gallery's location in the ARC this year because more students pass through the ARC than Purnell Gallery, she hopes that Upper School students will soon see visual artists' work displayed on stage before assemblies. Hannah also hopes to see more advertising for visual art shows in the future.
Although the Hockaday visual arts program has a long road ahead to increase its acknowledgment, viewers can look forward to new additions being added to this year's program.
With hopes of drawing more attention to the event this year, Caitlin said that "this year we plan on advertising with very eye-catching posters," and that "there will be very delicious food present…along with the traditional, and very delicious, Hockapunch." And nothing draws a crowd like Hockapunch.
– Ansley