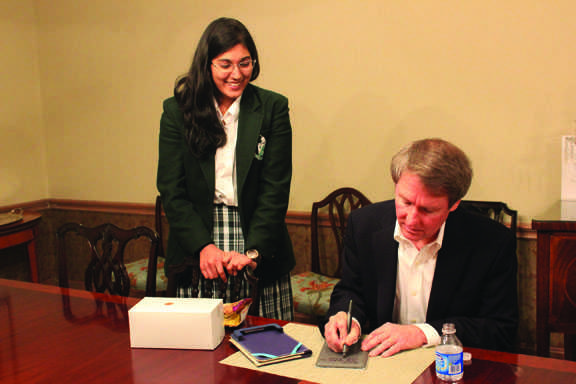 The endless queue of analytical papers may stifle juniors' creativity even as the prospect of writing college essays looms. In this creative desert, the end of the third quarter, even the most inspired student's creativity can wane.
The author series, a program started last year by senior Kay, brings in primarily local authors to offer inspiration and guidance to juniors.
The authors teach "how to imagine yourself as a character about which you are going to write because that is an important part of the college essay," English Department Chair Dr. Deborah Moreland said.
This year, the series featured four authors: Cindy Dees, Ben Fountain, Cynthia Shearer and Diana Spechler. Each author lectured a junior English class and led a writing prompt  workshop with the students.
Spechler, a family friend of this year's author series co-coordinator, junior Nikita, flew  in from New York for the occasion. She was "the main shown," junior and co-coordinator of the author series Sarah said. A college essay tutor and creative writing teacher in at various locations in New York City, she visited an Honors English class and gave this prompt: write down the names of everyone you've ever had a crush on and then describe them.  A character-driven rather than plot-driven author, Spechler helped the girls in making a believable character.
After this exercise, some girls offered examples of what they might use as a college essay topic, and she workshopped these ideas with them. "She took a story and brought out the 'so what' aspect of it," Sarah, who attended the class, said.
In addition to visiting the junior classes, three authors (Dees, Fountain and Spechler) held question-and-answer lunches on March 21, 22 and 23, respectively, with groups of Upper School girls who signed up.
"[The authors] presented some anecdotes about their writing experience, what inspires them, how they knew they wanted to be a writer, what their process is and how to use emotions productively," Moreland said.
The lunches provided an opportunity for girls to connect with the  writers and gain confidence in their own writing ability.
At her lunch on March 23, Dees, author of 35 romance novels and a Dallas resident with a sharp wit and sense of humor, brought a firsthand view of the current climate in the publishing world.
But the "most important thing" about writing that Dees impressed was that "it does not have to be perfected as you go because you can keep writing and create a cohesive story and then go back and tweak things," sophomore Hannah, who went to the lunch with Dees, said.
Fountain, also a Dallas resident shared his cerebral approach to writing, as he writes to explore things. He started his writing career at 30 following his time as a law student and urged girls "not to let yourself get tied down."
Along with their successes, all the authors admitted to their fair share of writer's block, procrastination and the consequent guilt of that procrastination, making themselves seem more relatable.
This is the goal of the college admissions essay: to be able to admit both failures and successes to create a character of yourself that will be relatable and desirable to the myriad colleges to which you apply.
Sounds like a challenge. To the juniors, good luck.
– Mary Clare