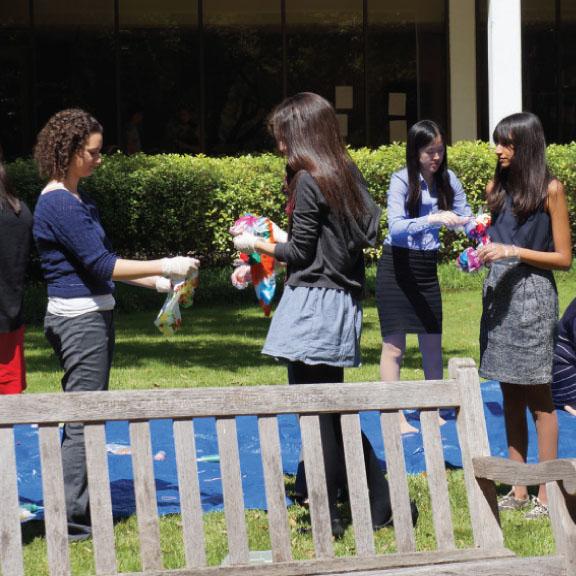 Hockaday hosts annual round robin tournament to celebrate success of female debaters
Girls in pantsuits and pencil skirts tie-dyed T-shirts in Metzger Plaza on March 24 and 25, as the Women's Round Robin returned to Hockaday after a two year hiatus. The tournament, which is open to women who have demonstrated success on the national Lincoln-Douglas debate circuit, was first hosted at Hockaday by former debate coach Stacy Thomas. Its goal is to offer high-level competition to students in a space which also encourages camaraderie.
Director of Debate Eric Melin worked with the senior debaters to revive the tournament this year.
Melin said, "I believe that we succeeded in accomplishing our goal and provided something our community wanted and needed."
Of the sixteen high school girls from across America who competed in the round robin, four were Hockaday students: seniors Mollie and Annie and juniors Kathy and Christine.
The event and its message is important for the current team. "Our goal was just to create a round robin that represents what Hockaday stands for: the power of women," sophomore debater Shreya said.
Nalia, a senior at the Brentwood School in California, agreed, saying that "it's cool that we are all here, not just for more practice, but while we are here we are making a statement."
In an activity where 80 percent of elimination round participants at the national level are male, female debaters face feelings of isolation and alienation, heightened by whispered insinuations that their success is because of the way they flip their hair rather than the way they write their cases.
The round robin is meant to be one solution to this problem. It allowed girls to establish new relationships with other debaters present. Participant Jessica , a sophomore at the Walt Whitman High School in Maryland, said that "this was an awesome opportunity because not only is it good inspiration for us, but also it helps us become connected with the community."
During the discussion, participants came up with other solutions for preventing and avoiding isolation. Chen said, "one way to keep a close community is when you see a girl sitting by herself you go and sit next to her and talk to her to make her feel welcome and make friends because friends are the ones that make a community."
– Gretchen