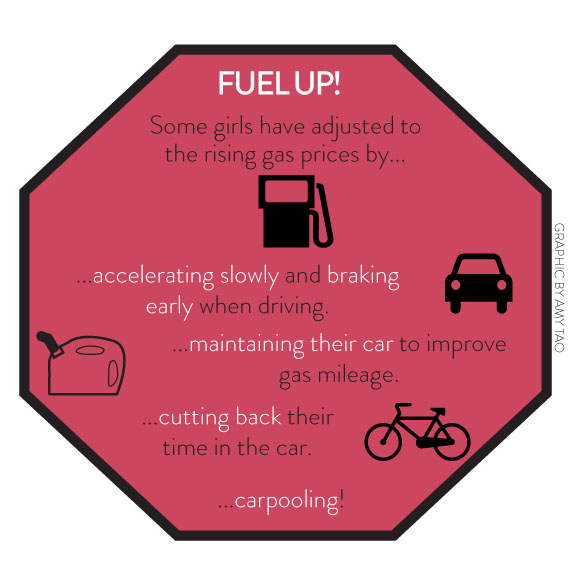 Hockaday students know all too well that the cost of gas is rising, yet not all drivers are making an effort to cut down on gas payment.
Even with the average cost of gas at $3.85, 30 cents more than the average one year ago, only eight percent of 75 Upper School students said that their driving habits have changed at all since the cost of gas began to rise, according to a survey conducted by the Fourcast.
Senior Erin believes that "the rising cost of gas is a necessary evil that we have to deal with. As individuals, we can't do much to change the expenses, so we are forced to pay them."
Including Erin, 25 percent of the students polled believe that there is nothing we can do to cut down on gas spending.
Perhaps this is true, or perhaps we only say that because it isn't really our problem. Over 80 percent of Upper Schoolers said that their parents pay for their gas.
However, over 90 percent of students polled know exactly how much they spend on gas per month, and the numbers are expectedly high, ranging from $50 to $200. Some parents, like junior Kaitlin's, are making sure to keep their children aware of the rising gas prices.
"I don't pay for my own gas, but that doesn't mean that it doesn't affect me. My parents constantly remind me about high gas prices and what it's costing them and sometimes pressure me with paying for my own gas," said Kaitlin.
Awareness is the first step to action, but was Erin right? Are these rising costs of gas something we all must suffer through? Or is there something we can do to help cut down on spending?
The Environmental Club spearheaded a campaign to promote their solution: carpool.
Currently, only 25 percent of Upper School students polled drive to school with two or more people in their car. However, with new incentives, such as the "Carpool Day" competition that took place earlier in the year against Greenhill, the percentage of how many girls carpooled to school increased dramatically, as shown by the fact that Hockaday won the competition.
Still, we can not save the environment, or save money, by carpooling one day every year.
"It's a lifestyle change, not just a competition," says Mariana Mariel, upper school Spanish teacher.
And this lifestyle change is more than worth it.
The average Hockaday student spends roughly $211 per month on gas. If two students carpool and split the cost, this would cut the amount of money each student has to spend on gas in half.
That means that the average Hockaday student would only be spending just over $100 per month on gas.
Of course, carpooling has its downsides. Erin, who carpools with friends whenever possible said that "carpooling can get confusing to organize sometimes; oftentimes I'm left at the last minute wondering where I'm supposed to be picking someone up."
Other negatives include: driving with bothersome brothers and sisters, driving the extra couple of miles and running the risk of being late to school, but all of these outweigh the high cost of driving alone.
As Mariel says, "It's the little things or even the big things like carpooling, that add up to help cut down on costs when it comes to gas spending."
– Alexis