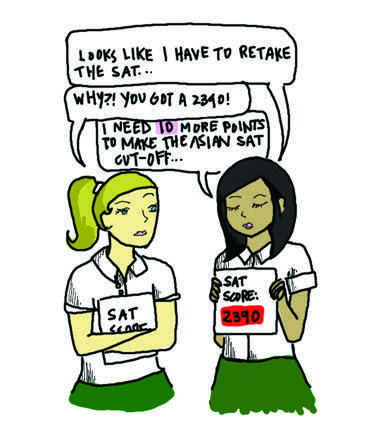 When Abigail, a Caucasian girl from Sugar Land, Texas, opened her decision letter from the University of Texas at Austin in 2008, she learned she had been rejected. But she didn't respond by burning her UT sweatshirts, or crying for hours, or downing boxes of Girl Scout cookies.
She took the admission decision to be a sign of racial preference. On Feb. 21, nearly four years later, the Supreme Court agreed to hear her case this fall. Should Abigail win, race may no longer be a legitimate factor in the admissions process at institutions of higher education across the nation.
In 1997, the Texas state legislature instituted the "10 percent rule" through which the top 10 percent of each graduating high school class in Texas gained automatic admission to any public college or university in the state.
When Abigail applied to UT Austin, she fell short of this range, landing instead in the top 12 percent of her class, according to "Houston Chronicle." She applied to a candidate pool in which students were admitted based on other factors outside of class rank, including race, essays, SAT scores, teacher recommendations, leadership positions and community service.
UT Austin, like other public colleges and universities in Texas, is allowed to use affirmative action in the admissions process, a policy that considers "race, color, religion, gender, sexual orientation or national origin" into consideration in order to benefit an underrepresented group. Abigail argued that her race overshadowed other admission factors during her admissions process.
The Texas state legislature amended the 10 percent rule in 2010, two years after Abigail's appeal, because UT Austin was impacted the most by the decision–it is "by far the most desirable school in the state," Hockaday's Associate Director of College Counseling Heath Einstein said. The new law stated that only 75 percent of the incoming class had to be selected by automatic admissions. As a result, UT Austin now accepts, on average, the top 8 or 9 percent of each graduating class regardless of other factors.
But Abigail claims that the law, with the amendment or not, naturally allows for a diversified class. However, Hockaday's Race Relations Board Chair senior Marisa disagreed.
"I don't think that using the top 10 percent rule as the only way of achieving a diverse campus is enough," Marisa said.
Abigail wishes to overturn UT Austin's admissions policy in which race can be used as a part of the admissions process. This policy comes from the 2003 Grutter v. Bollinger Supreme Court ruling that allows higher education institutions to consider race.
Einstein believes that the Supreme Court may overturn the 2003 ruling, primarily because the more conservative Chief Justice John Roberts and Justice Samuel Alito are now on the court; furthermore, Justice Elena Kagan, the most recently appointed Supreme Court Justice and considered more liberal than other justices, recused herself from the case because she served as solicitor general when she worked on the Texas case.
The Supreme Court's decision will affect not only Texas universities but also public universities across the nation. Should the Supreme Court outlaw race, Einstein does not believe Hockaday girls will be as impacted when applying to UT Austin.
"Our girls do really well overall in admissions and even at UT Austin, our students are really successful in this process. I can't think of one student who was not admitted where I said, 'Gee, well only if she was of a different ethnic origin, she would get into UT. I don't think it's going to have as big of an impact here as one might think," he said.
Senior Annie agreed that the decision will not significantly affect Hockaday students when applying to any university.
"I think that Hockaday is a very high-achieving school, so regardless of what race you are, you probably are around the same merit area—everyone wants to do well, everyone is successful—so I don't think it will affect Hockaday as much."
However, "In terms of the larger scheme, if race is no longer a factor, it will definitely deter lower-income minorities from applying to challenging schools which might result in a vicious cycle of unsuccessful minorities," Annie said.
Marissa agreed: "I think you'll definitely see a change in dynamic of percentage of different races [in universities]…if something like that happened."
She references the University of California system, where public universities do not consider race in admissions. The effects of this system versus Texas' university system are distinguishable.
At the recent Race Relations forum on affirmative action, the board compared the percentage of Asians (40.7 percent) and Latinos (14.3 percent) at UC Berkeley compared to the percentage of Asians (11.9 percent) and Latinos (36.7 percent) in California, indicating notable differences.
On the other hand, the Texas college system allows affirmative action. Asians comprised 4.6 percent of students at Texas A&M in 2009, comparable to Asians comprising 3.8 percent of the Texas state population in 2010. The percentage of Asians in the Texas college system is closer to that in the state's population.
Marissa contemplated the possibility of total elimination of race in higher education admissions processes.
"I think that if the race…is eliminated, then you'll have a new set of questions—did you take SAT prep? How long have you gone to private school if you're in private school? What public school district are you in?" Marissa said. "That's a whole new set of things you have to look at if they want to create an 'equal' environment."
Annie was accepted into UT Austin's McCombs School of Business but does not believe affirmative action largely affected her chances of acceptance.
"If anything, race would have hurt me because I'm Asian, but I know a lot of Asians and white people who were accepted into UT [Austin]—I think I got in because of my merit."
Often, students exaggerate the weight of race in admissions. However, Einstein said "[race] is not nearly as big a factor as students and parents sometimes think it is. When a college admissions office is trying to determine what their incoming class looks like, their most important thing for them is creating a group of students all of whom feel will succeed academically. It does nobody any good to admit students they feel are under-qualified…the idea that someone who is unqualified as taking the spot of someone who is qualified is just factually inaccurate and is overstating the case. So race as a determinant is one of the last things that come into the equation."
Should race be eliminated from the admissions process, UT Austin remains unsure how it would follow up with the ruling as nothing as has happened of yet.
Patricia C. Ohlendorf, Vice President for Legal Affairs at the UT Austin, said, "The University is focused on prevailing in the U.S. Supreme Court. This case is important for all of higher education."
The Supreme Court will hear Abigail v. University of Texas this fall.
– Tiffany