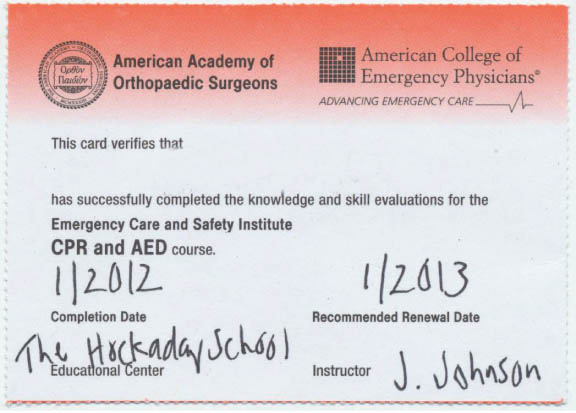 For years, girls could avoid the in-school CPR and First Aid course requirement and
get a head start on the academic year by taking the course outside of Hockaday through a certified lifeguard training program. Recently however, the Physical Education department has noticed discrepancies between the required Hockaday First Aid curriculum and the courses offered outside of school.
"The requirements need to be the same for everyone; in school we cover First Aid much more in depth than is customary, which can make it hard for girls to find a course outside school that is substantial," director of the health curriculum Rebekah Calhoun said.
To some, there are several advantages to taking the course outside of school, namely regaining a lost free period and receiving lifeguard certification.
"The option to take the course outside of school began a long time ago, when girls were becoming certified as lifeguards and rescue guards and were also having to take the course in school," Calhoun said. "It wasn't fair to require them to give up a free period to take a course they had already learned."
CPR and First Aid is the only graduation requirement that can be fulfilled outside the gates of 11600 Welch Road and has to be handled with care to make sure every girl is receiving the same level of experience and practice.
Often, for three sport athletes, having a free period during the day in order to finish assignments is crucial to balancing their workload.
"I have to maximize my time in school to finish my work, so taking the course over the weekend was worth keeping my free [period]," sophomore Lucy said, who took the course over the summer with Hockaday parent Tom Landry who taught a small group of girls the course.
But not all CPR and First Aid courses are created equally.
"I've had to stop girls before and be the bad guy, I hate telling people no, but often I get girls signing up for a course that's only three hours and have to tell them that it's a no-go," Calhoun said.
Due to issues concerning breadth of information, the only courses deemed acceptable replacements to the Hockaday course are either lifeguard or rescue-guard certifications.
Those who do receive their certification in order to become a lifeguard are able to metaphorically kill two birds with one stone.
"I was certified last summer because I want to lifeguard at Brookhollow this upcoming summer before the school year. Said sophmore Evie, " It was
really worth it because I took the course in four, eight hour sessions over the summer and could apply for the job
while keeping my free, it was ideal."
For fourty years Hockaday has no longer taught driver's ed at school, making the CPR course on of the few 'life-skill' graduation requirements.
"I understand why it is necessary to make sure we're learning everything to cover CPR and First Aid," said sophomore Madison who had to discuss the course with Mrs. Calhoun when planning her certification. "It's our only class that could potentially be deemed life or death, so it makes sense that we have to learn it all."