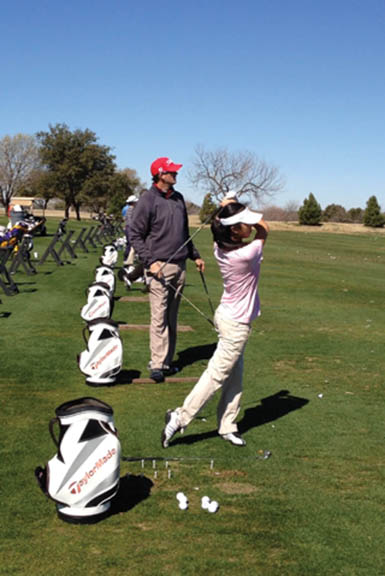 Freshman Lauren takes the title of number two seed in the golf division
Even with six years of experience under her belt, freshman Lauren was still overwhelmed with nerves when stepping onto the green in her first golf tournament for Hockaday. However, having attended 15 meets prior to becoming a member of the Hockaday golfing team, Lauren had the skill to be ranked number two seed in her division.
"I was pretty nervous going into the tournament, but it was also such a great experience and it was so much fun," Lauren said.
Even though Lauren has played for several years before high school and competed in tournaments, the high school tournaments have added something new to her golf experience: team aspect.
"Playing is so much more enjoyable in high school because I get to play with girls who I know and who are my teammates," Lauren said. "It's not something I've ever had before and that's been great."
Comprised of only six people, the golf team has formed a close bond during all the time dedicated to the sport and Lauren has been able to recieve a good portion of opportunity on the team, even as the only underclassman.
"Lauren fits in well with the rest of us, especially since it's such a small team, she's an amazing golfer and is number one on the team. It was easy for us to bond with her and she fits in well with the rest of the older girls," said senior captain Tita.
Practices are usually held at Beaver Creek Golf Course, right next to Dallas/Ft. Worth airport, about a 30-minute drive from Hockaday. While team members arrive separately to practice, they still are left with plenty of time to bond on and off the course.
"We travel a lot, our last meet was all the way down in Houston, and since we left Sunday night and came back Monday night, we missed a whole day of school for it," said Lauren.
When they aren't traveling to the borders of Dallas to practice, girls usually receive private lessons or practice on their own time. For Lauren, that means traveling to Brookhaven every Tuesday to meet with her coach, Bruce Smith, a supplementary instructor to Coach Skaife and Coach Lagow.
"Meeting with my coach Bruce is when I really focus on my skill and technique," Lauren said.
Having worked with Coach Bruce for three years, Lauren's skills have been taken to the next level. Helping her focus on things like keeping her swing simple and consistent as possible in order to help her place the ball on the green.
With such potential and a promising season for Lauren coming up, it's very possible the team will be able to clench an SPC championship again, especially with Lauren's help.
"I'm really looking forward to the rest of the season," Lauren said. "Of course I would love for the team to win SPC, but the season has been such a great experience that it would just be a bonus."
As to why Lauren choose golf over a more run-of-the-mill sport like soccer as a child she added "My parents both play and I used to go out with them when I was little, I really ended up loving the sport, it's my favorite thing to do."
Molly