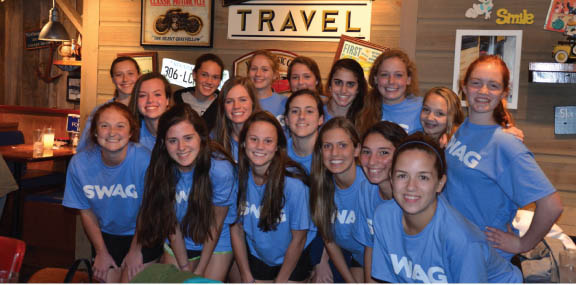 The full lacrosse schedule this season brings a young team more victories
Undefeated in the Southern Preparatory Conference league, the Hockaday Varsity Lacrosse team owes their triumph to a vigorous new approach, a fresh team and several extra games.
After losing key seniors at the end of last year, the team is not only full of new players but has developed a new approach to the game. Focusing more on fitness and agility, the team spends 30 to 40 minutes of their practice in the wellness center with Coach Jenny Francuski.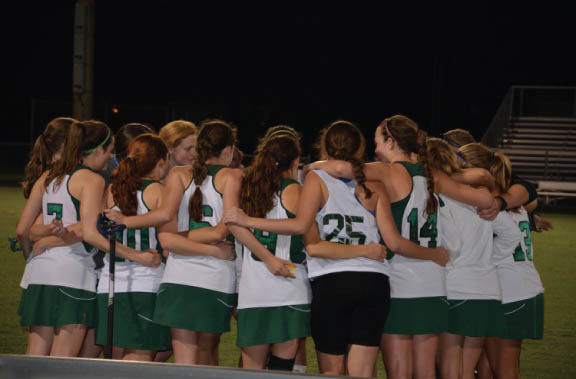 "We are looking to be the top team–we want to be faster, stronger and more skilled than our opponents," varsity lacrosse coach Elia Kochan said,
Their fitness regime, which includes lunges, lacrosse drills, medicine ball throws and weights, focuses on strengthening players' arms, legs and core and has been very helpful for the players.
But the hard work is paying off. "It has made me a lot stronger," lacrosse player junior Ramie said,
"I've gotten in better shape and my stick skills have improved."
To some, the benefits of this regime can also be seen outside the field. Sophomore Catherine, who played varsity last year, said that if the team had "a really good practice or do really well in a game and meet all of our goals, [then] that really motivates me to do my homework."
For inspiration and encouragement, Kochan devised a schedule of playlists and guest "stars" to keep her team excited and encouraged.
"I thought bringing in some fun, we have daily inspiration through music or guest coaches, would help us reach our goal," Kochan said.
One of these guest stars was Upper School Head John Ashton, who provided his own upbeat playlist.
For a mom theme week, the players' mothers were asked to text their daughters before practice with encouragement, and songs requested by the moms were played during practice.
"Our workouts can be difficult or just a lot of work, but I feel like it's definitely made us closer," Catherine said.
Another factor contributing to the team's strong performance, are the extra games they have played against out-of-state teams from Overland Park, Kan., St. Petersburg and Orlando, Fla., teams outside of Hockaday's regular circle of competitors. These extra games started as a way to give the team more experience and practice and also to allow them to see where they rank outside of Texas.
The players have not only been able to perfect their techniques, as a result of the extra games, but the team has bonded over trips to Florida and Austin.
Due in part to these out-of-state trips, the varsity team has had a very busy schedule, it contains only two free weekends. But the team isn't complaining. Catherine believes that these extra games have helped the team bond into a cohesive and well-trained group of girls.
"I am very proud of how far they have come in just a short amount of time," Kochan said, "and I look forward to every practice and every game."