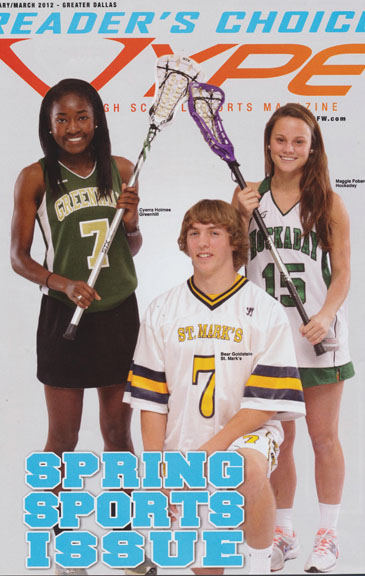 Senior Maggie Shares About her Awkward Cover Shoot
Less than a month ago, senior Maggie only dreamed of being on the cover of a magazine. Now, however, "Vype Magazine" has made her dreams a reality—or so it would seem.
"Don't get me wrong, I really am honored, but I wish it was for InStyle or something," Maggie lamented.
Although there is no celebrity gossip or Who Wore it Best, "Vype," a regional high school sports publication, selected Maggie and 22 other athletes out of all Dallas high school students to compete to be featured on the cover of their next issue.
So why Maggie's lack of hype for "Vype"?
"Well, first off, they messaged me on Facebook to let me know that I was nominated. I thought it was a scam at first," Maggie said, "in fact I still kind of do."
The excitement and dedication Maggie's classmates displayed
throughout the competition made up for Maggie's lack of enthusiasm.
"The website only allowed you to vote every thirty minutes, so every half hour I pulled out my phone to vote," senior Hannah said.
Numerous other Hockaday students did the same and Maggie collected 3,433 votes by the end of the week, which earned her third place and a spot on the cover of Vype.
"My classmates had my back. After a while I kind of wanted them to stop…I wanted to win the contest until I actually won the contest," Maggie said.
Maggie arrived at the shoot with her hair in a ponytail, expecting a quick and casual affair. She was caught slightly off guard.
"In my entire life, I have never experienced anything as awkward as that photoshoot," Maggie said. Modeling with fellow contest winners St. Mark's junior Bear and Greenhill senior Cyerra, Maggie said that "the photographer had us do weird poses with our lacrosse gear. It's really hard to look cute when you have a mouthguard on."
Bear agreed, "It was a huge honor, but the photoshoot was weird. They had us pose in strange ways and there was Katy Perry music playing in the background the whole time."
After the photoshoot, Maggie answered questions for Vype's online article.
"They asked me questions about Hockaday lacrosse and about my future plans in college,"
said Maggie.
Although she jokes about the Vype experience, Maggie, who signed to Northwestern University for lacrosse, is happy to have a souvenir of her memories of high school sports.
"Yes, it was awkward, and, yes, I may not have actually wanted to win," Maggie said, "but I am happy that I'll have a keepsake to bring with me to college."