The senior class of 2012 leaves a mark of unity and camaraderie on the Upper School
Though senior year seems as ephemeral as this year's winter, there is one word with which Form IV sponsor Colleen Durkin described the senior class: "Unforgettable."
Every senior class leaves a different mark on the school. This year's senior class has had multiple accomplishments.
"We have a brilliant assortment of women who are enthusiastic and confident, and they can take anything that comes on," senior Avery said. "Enthusiasm. Beautiful. Bold. Strong. Grace. Strength. Courtesy. Persistence. Responsibility. Reliability. Optimistic. Loyalty. We are so loyal. There isn't one word to describe us. Maybe eclectic."
But bringing all these individual qualities together with their spirit and camaraderie has been what is most notable about the Class of 2012, said Durkin.
The cliques that often divide classes are much less prevalent within the Class of 2012, senior Sheridan said.
"We're really close and you can sit down with any group of people and not be self-conscious about having a conversation with them," she said.
The Class of 2012 has an "all for one and one for all" kind of attitude. Head Form Sponsor Rebekah Calhoun said that the seniors are "together and in support of each other."
They cheered and stomped their feet for their classmates at award ceremonies, and in classic Hockaday fashion, they "whooped" for their friends performing at the orchestra concert and the final dance assembly. And though they may have lost Form Day three years in a row (there is still hope for this year!), they did it together.
The quirky things the senior class does as a whole are some of Durkin's favorite memories, she said, from "tapping the clock" to "any impromptu dance party," especially when Head of Upper School John Ashton joins in on "the wobble" in the hallway.
Referring to Ashton's dance moves, Durkin said "people do things for this class that they wouldn't normally do."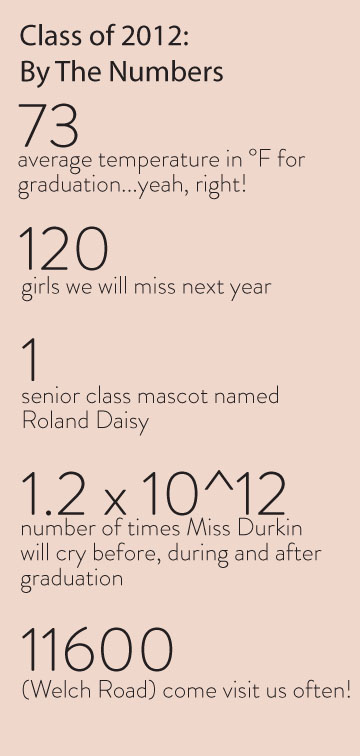 Their genial attitude and carefree spirit, however, doesn't stop at the end of the senior hallway but extends to all of Upper School. The class' lack of stratification has set the tone for a more unified student body.
"We're creating more of a familial sense in the Upper School," Sheridan said. "It's not as defined like this is our hallway, get out of our hallway, please leave. I don't think our grade has a problem with being too intimidating or being rude to underclassmen."
The change is noticeable. Sophomores will sit in the senior hallway, something previously unheard of with other senior classes. Seniors often even venture out of their hallway to sit and chat with underclassmen friends in the junior hallway.
"I like that [my senior sister] acknowledges me in the hallway, and she makes an effort to congratulate me on the things that I've done, like when I got my student council position," freshman Aneesha said.
The integration of the upper and lower classmen in sports teams and dance classes and even academic classes has fostered this mentality of equality.
While Sheridan has gotten to know underclassmen through cheerleading, junior Natalie has interacted with seniors in her French class.
"I've been in their French class for a long time, and they've always treated us as equals," Natalie said.
This mentality of equality and creation of community on the sports fields, in the classroom and on campus, both within the grade and throughout the Upper School has been the mark of the senior class. As Durkin said, "there will be a notable absence next year."
-Mary Clare and Laura