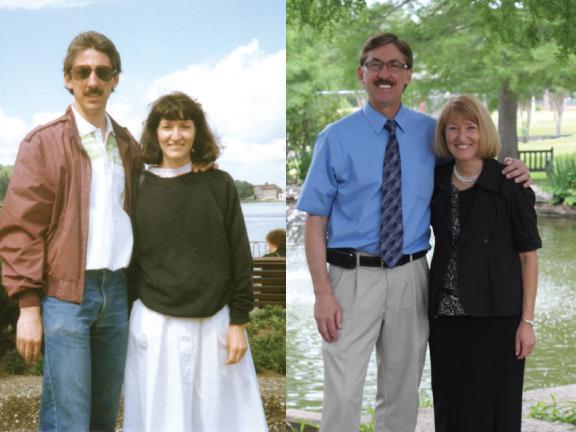 Teachers Richard and Peggy Bradley plan to retire this year
Every day, Hockaday students walk into class, open their laptops and begin their work. But if it were not for the Bradleys, Director of Technology Richard Bradley and Interim Head of Lower School Peggy Bradley, this would not be the case. The technology department power couple celebrated their 35th wedding anniversary this year, and both Bradleys plan to retire this May.
"Hockaday has been our home for a long time. I will miss almost everything about it, but mostly my friends and colleagues that I work with every day, my advisees and all Hockaday students," Richard said. "I'll miss the school plays, dance and music assemblies, athletic events and students singing and playing the piano in the ARC. I'll miss the excitement at the beginning of school and the excitement when the year is over. I'll miss Hockaday lunches and socializing in the lunchroom with colleagues."
Richard began his career at Hockaday in 1983 and was joined by his wife Peggy in 1991. Together, the husband-wife team has contributed together nearly 50 years of teaching and guidance to Hockaday.
Beginning his time at the school as a math teacher, Richard soon assumed additional roles in the technology department and as a basketball coach. After juggling three obligations for almost two decades, Richard gave up his coaching and teaching positions over time. He taught his last calculus class in 2000 in order to focus solely on shaping the role of technology at Hockaday.
"It was very hard to quit teaching," Richard said. "I have missed it ever since."
Peggy joined the Hockaday community as Lower School math and science teacher. She soon broadened her scope to teach a Lower School computer classes as well. Next, Peggy moved to the Middle School. Throughout her time there, she filled roles as a math teacher, a computer teacher, an ESL teacher, the Computer Coordinator of Middle School and finally the Technology Integration Specialist. This year, Peggy returned to the Lower School to take up the role of Interim Head of the Lower School.
"I feel like I've come full circle," she said of her final experience in a long line of departments at Hockaday. "It was a whole different experience."
The lion's share of the couples' contributions to Hockaday, however, has been to the technology department. After five years of developmental work, including a summer visit to Australian schools that had been successful in starting school-wide laptop programs, Peggy and Richard together launched Hockaday's Toshiba laptop trial program in the fall of 2004. Fifty Middle and Upper School students were given Toshiba laptops to test throughout the year.
In 2005, the laptop program expanded, and students in grades six through 12 purchased laptops to use during the school year.
Wendy Bradley '01, daughter of Peggy and Richard, recalls both her parents working long hours to train the Hockaday students, staff and even parents in the use of Toshibas. "It was a big job," she said.
But Peggy said she believes that the couple's hard work and commitment to the program soon paid off.
"The students loved it right away, they were way ahead of the parents and teachers—they were totally ready," Peggy said.
This May will mark the completion of the eighth year of the Hockaday laptop program. Richard and Peggy have overseen the development of the program and worked to improve it year after year.
"I think the laptop program has been the best technology development at Hockaday," Richard said. "We really had no choice. We either needed more computer labs to satisfy teacher and student needs or a laptop program. Our administration and faculty felt that laptops would not only change how students are educated at Hockaday, but would give Hockaday girls the necessary technology skills for college and eventually the workforce."
The Bradley's colleagues in the technology department say that they will miss the pair greatly.
"[Richard] is one of the coolest guys I've ever worked with. I hate to see him leave," Help Desk Coordinator Roderick Lowery said.
In addition to their roles in developing the laptop program, Richard and Peggy also played the roles of parent and advisor at Hockaday. Their daughters Wendy and Kristen Bradley '99 were both along for the ride of their parents' momentous careers at Hockaday.
During Wendy and Kristin's time at Hockaday, the two often stayed in Richard's and Peggy's offices and drew when they were sick or had school vacations that did not coincide with Hockaday's faculty and administrative breaks. The pictures still hang in the Bradleys' offices today. Wendy remembers in particular one of the days when Kristin joined in on a math class of Richard's.
"She was sick and spending time in my dad's math class," Wendy said. "While he was teaching, she started to copy all the math symbols from the chalkboard in a space just next to it. By the end of class, the students were copying down her notes—they said her handwriting, as a five- year-old, was easier to read."
Richard and Peggy have also enjoyed filling the roles of student advisors at Hockaday. Members of Richard's advisory say they have enjoyed the chance to get to know him in a different way than most Hockaday students.
When his advisees enter the advisory room, Richard often encourages them to eat more bananas. "Bananas are kind of his thing," senior Hannah said.
Richard's advisees say they will also remember the "beauty kit" he keeps in his office with floss and other necessities. "On the last day of school in our sophomore year he let us gel his hair up," senior Elli said.
Peggy says she has enjoyed the opportunity to fill the role as a Middle School advisor. And freshman Hayes says she recollects fond memories of the close-knit advisory. "Mrs. Bradley was great; she kept us focused on school but still made every advisory really fun."
The couple began to consider the idea of retirement two years ago; however, the struggling economy made it the wrong year for them to retire. This year, however, seemed right to them, Peggy said.
"I will truly miss the students and faculty at Hockaday," she said. "I will especially miss carpool in the early mornings in Lower School. Every girl comes to school so excited, sometimes skipping, and usually with a smile to begin the day. It's contagious—everyone begins the day happy."
The Bradleys plan to continue living in Texas for the meantime, but they hope to travel around the world in their retirement. Peggy said that many of her fondest memories stem from their travels together.
"One of my favorite countries is Italy, and I have many fond memories of vacations there. I especially love the Tuscany area. Once in Sienna, Richard and I stayed in the loveliest spot soaking up the sun and scenery," she said.
While at Hockaday, however, the Bradley's only have time to travel twice a year. They said they plan to find community service projects to help others around the world in ways such as building schools for the less fortunate.­
"I love meeting new people and learning and adapting to new cultures," Peggy said.
With both of their daughters being Hockaday alumnae and with their joint work at the school for nearly half a century, the school has played a major role in both of their lives. ­While they are excited to continue their lives on new avenues, the transition to retirement will not be an easy one, Richard said.
Speaking on behalf of both himself and Peggy, Richard said, "We will definitely miss Hockaday, there's no doubt about it."
-Mary Frances and Hailey