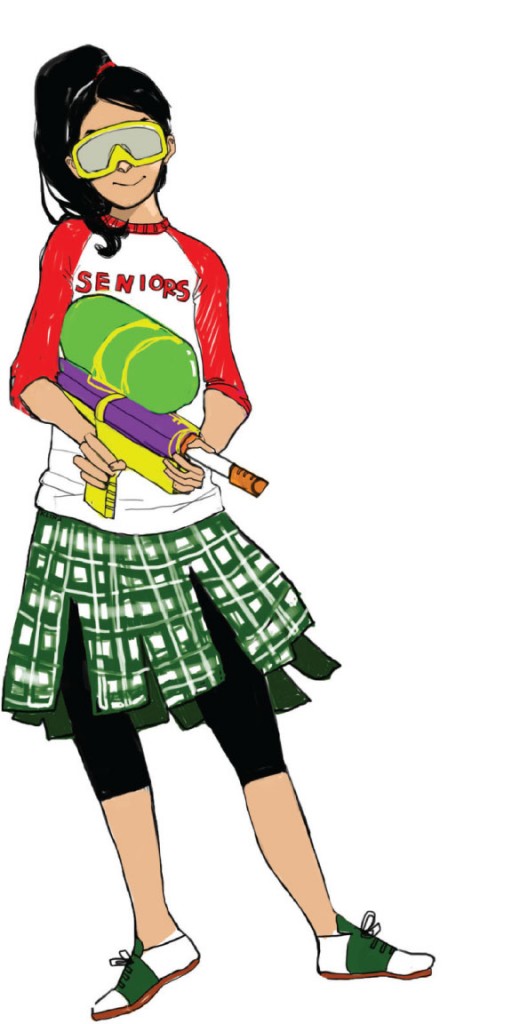 Senior splash day evolves, changes carry little effect
It was the last Friday morning of the 2008-2009 school year, and the seniors dominated the school. They hid behind cars in the parking lot, stood poised throughout Metzger Plaza and staked out the entry to the Middle School, awaiting any unfortunate soul (or rather every Hockaday student) who walked in their path.
But Splash Day has evolved into a different type of celebration since the 2009 event. Year after year, it has shifted away from a day centered around a free for all assault on underclassmen and towards a regulated celebration of the senior's last day on campus.
The purpose of the day, senior class co-sponsor and Director of Health Curriculum Rebekah Calhoun said is "spending time, hanging out able to enjoy each other and not having to go to class."
In keeping with that goal, "safe zones" are now readily available to those underclassmen who wish to avoid getting soaked. Administrators opted to provide the safe zones because "there are some people who loved to participate and others who felt forced to participate or didn't want to be wet," Calhoun said. "They felt like they need to have safe areas for people who did not want to engage, so that's when they went to pathways."
The changes began to take hold in the spring of 2010. But sophomore Lily, whose sister, Jackie, graduated that year, recalls that the new regulations did not stop her sister and her senior friends from tracking her down. She noted, however, that she appreciates the tradition, and it is one she wishes to uphold during her own senior year.
"My sister could not spray me because I was in Middle School, and they had changed the rules; however, she sprayed me before I could get into the car," Lily said. "You don't really have a choice. You can't go through High School without getting sprayed. And let's just say when I'm a senior there won't be a dry kid in the school."
Sophomore Mary also believes that the new rules have carried little effect, and drastic measures must be taken to avoid getting soaked by the seniors.
"Get dropped off at the horseshoe, bring umbrellas and get an escort from Dean Matthews through the plaza. That's all I can say," she said.
During Splash Day her junior year, senior Maddie found that avoiding the exterior of the school entirely was the only way to stay dry.
"Last year, I just hid inside the school the whole day. I would not go outside," she said. "This year, I am just ready to spray down some teachers and underclassmen."
Even Dean of Students Meshea Matthews does not mind a traditional spray down.
"I always go out and let them really soak me," she said. "I try to make it a surprise so not everyone knows how I will come out. It's always fun to see what strategies I can come up with."
Calhoun pointed out that, despite the new regulation and its effectiveness, Splash Day provides the senior with one last time to rule the school in style.
"Spending the day together with the grade to me is just really fun because they all participate in one last activity together: being silly, having fun, just hanging," she said, "It is just a nice, fun way to finish and come back together as a grade one last time before graduation."
-Gretchen