Summer Meltdown : It's Not as Sweet as it Used to Be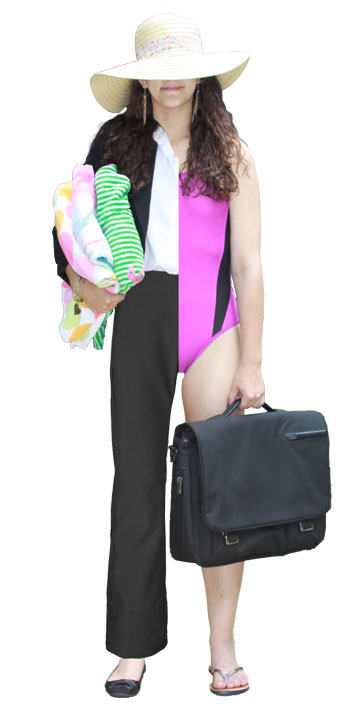 The New Side of Summer
As a High School student, Dean of Studies and Upper School Science teacher Dr. Barbara Fishel spent a single summer afternoon at a science lab in the university where her father worked. This was the closest she came to school work on her summer vacation. "I found a woman who worked in a lab on campus, and she just walked me around and showed me what she was doing in one afternoon," she said. "When I was in High School, nobody did things over the summer other than you might work a job, but it didn't have anything to do with school. There was no such thing."
Fast forward to the 21st century to 2012. Junior Linda plans to spend her summer conducting research in a chemistry lab at the University of Texas at Houston.
"I think a lot of people who are interested in the math and science world of college look for research to do during the summer because it looks better on your resume," she said.
A combination of factors has contributed to increasing summer obligations for high school students. Students and teachers cite a more competitive college admissions process, more opportunities and an increasingly fast pace of life as three of the main catalysts for this change.
"It's very true that the summer time is now not considered to be the sacrosanct period for students that it once was," Hockaday's Associate Director of College Counseling Heath Einstein said. "Colleges expect that students will use that time in an effective manner, doing something productive."
While he does not venture to say that summer experience holds the golden key to college admission, Einstein does state that it is an important aspect of the admissions process.
"There are other students who are doing something with their summer," he said. "So, in a sense, it puts you at a competitive disadvantage if you are not doing something yourself."
But Einstein expresses remorse for the loss of summer vacation as he knew it in high school.
"I lament the fact that students don't have their summers to themselves like we used to," Einstein said. "The flipside to that, though, is that there are way more programs out there now than there used to be. There are all these companies that have filled the marketplace, so there are way more opportunities than existed before."
Wes Waggoner, Dean of Admissions at Southern Methodist University, suggests that students use the summer months to gain clarity in their ambitions and enrich their resume in areas which they have already begun to pursue. He adds that these experiences may also be the source of another topic to discuss in essays and interviews.
"A student with a strong interest in science might find herself having taken all of the science courses in high school, so she could take a class or find a research project at a local college," he said. "One who loves languages and cultures might travel abroad for an extended period to study a language through immersion.  Someone who wants a career in business could get a part-time job to start experiencing what the business world is about from the ground floor."
The Hockaday College Counseling Department begins meeting with the parents of freshmen to advise them on helping their daughters plan productive summer activities.
"We talk to the parents of Form I and Form II students throughout the year in a series of coffees, and one of those sessions always has to do with summer activities," Einstein said. "So there is a good portion of our parent body that is aware that summers are meant for some pretty rigorous activity, especially leading up to eleventh and twelfth grade."
College Counseling Administration Assistant Leslie Dawley serves as Hockaday's Summer Program Specialist. When students need help researching and pursuing summer programs and activities, they may seek out Dawley's assistance. She collects information from students who have attended programs in the past and posts their feedback on Family Connection, a college-planning website that all Upper School students have access to.
"From there, depending on what they're looking for, I might go to college websites or just do general Google searches," she said. "I see if anything grabs their attention."
Dawley suggests, however, that students do not fill every moment of their summer with planned activities. "Sometimes girls will come in and say 'I have one week with nothing planned. What should I do?' And I say, 'Nothing. Do nothing!' Take some time. It does not have to be a non-stop summer. If you do something substantial for a few weeks, there is nothing wrong with doing something with your family."
Freshman Lauren is just beginning to discover the ins and outs of summer planning.
"I feel like it's not a bad idea to try to get ahead in school during the summer," she said. "My mom is making me do SAT prep this summer. There is definitely more structure now."
To sophomore Maya, summer rigor is not necessarily a bad thing. She says she is excited to spend her entire summer abroad: half in India visiting family and half at Oxford taking college courses for credit.
"I really wanted to do something fun over the summer, something new, and sitting around here all summer isn't really my type of thing," she said. "I love traveling and new experiences."
Sophomore Dalton's passion for community service, however, guided her summer planning. She has decided to spend four weeks helping children in a remote village in Vietnam learn English through the Putney Student Travel Program.
"I love doing community service already, and the fact that it was going to be international made me really excited, because I love travelling the world and seeing different cultures," she said. "This was a way for me to help out another community and explore another culture at the same time."
While Dalton does plan to include her experiences on the trip in her college applications, she says that the college admissions process did not play into her decision to attend the program.
"Now that I am going to do it, I probably will put it on my college resume, because it will be an experience that will shape me in a way," she said.
Einstein is not entirely surprised that students such as Maya and Dalton are willing, even excited, to spend their summers exploring new environments and building new skill sets. For the current generation, the idea of staying busy during the summer time is the norm.
"It's a fairly new phenomenon—within the last generation," Einstein said. "I think students these days are more conditioned to use the summer months in very intentional manner so they don't burn out."
Fishel acknowledges both benefits and drawbacks to engaging in rigorous summer programs. While she appreciates students' enthusiasm for summer studies, she also views summer relaxation as vital for school year success.
"Play and relaxation is essential for being productive later," Fishel said. "And I always use the example of the breast stroke. When you do the breast stroke, there is a part of the stroke that you aren't stroking. You're gliding. And I think we've left off the part of our strokes and our recovery part to let us do more. We just keep doing more and more and more."
Fishel attributes the added sense of urgency to the heightened competition prevalent in the college admissions process. She has observed a steady rise in summer commitments since her own time in high school through her first days at Hockaday and continuing until the present.
"I applied to college in the second semester of my senior year. Two colleges. And I went to one of them. It just was not a big deal," she said. "Even in the time I've been here, it has always been competitive, but it's become more and more and more, and that's because of the number of kids in the college age population, which is at its peak now."
World Languages Department Chair Lisa Camp also points to the unique benefits students reap by participating in summer language programs.
"I see a lot of girls studying over the summer and taking advantage of that time to skip a level in a language they are studying," she said. "There was a time when I would have thought it was impossible to skip, for example, first year French. But more and more students are actually doing that successfully."
She acknowledges both advantages and disadvantages, however, in sending students abroad to further their language studies.
"Summer used to be a time to kick back and not have too many responsibilities. The pace of life has changed dramatically in the past 10 years. I think there is a sense of urgency to not waste time," she said. "But it is nice to take a course in the summer when you can really focus on one topic and enjoy immersing yourself in that particular endeavor."
The summer after senior year, however, presents Hockaday students with the rare opportunity to fully relish in their free time and in their boredom. Free from the pressure of college admissions, senior Maddie, who will attend Texas Christian University in the fall, plans to enjoy a summer focused on friends, family and a low-keyed summer job.
"Before I go to college, since Hockaday has been so grueling over the past years, I've decided just to relax this summer instead of participating in a rigorous summer program at my college or at another college," she said. "I'm hoping to find a job as a nanny or work in some kind of occupation."
When Upper School Counselor Dr. Margaret Morse '93 attended the Hockaday Upper School, plans such as Maddie's would have been common for all students, not only seniors. Morse cites summer camp, jobs and friends as her and her classmates' primary sources of entertainment over summers. It was a time whose primary purposes were relaxation and rejuvenation.
Morse recalls that summer boredom led her to work at a local Haagen Dazs during the summers between stints in the Hockaday Upper School.
"I didn't do that because of how it would look on my resume. I didn't even think about that," she said. "Back in the '80s and '90s when I was at Hockaday, we were not so worried about that. I worked really so I could make some extra money to pay for clothes that I wanted and to pay for concerts."
But to Morse, her summer ventures provided her with much more than a bit of extra cash. She remembers a particularly formative three week hiking trip during the summer months.
"I took my bike and put it in my car and went through all these national parks," she said. "I was taking a hike all by myself watching the sunset, and I had this epiphany of what I wanted to do with my life. There is a lot of clarity that only boredom can bring."
Morse hopes that, despite the added commitments Hockaday girls face during the summer, they will still take time, at some point, to let their boredom lead them down new avenues.
"From boredom comes some really amazing things," she said. I do worry that Hockaday students don't have enough time to be bored, to sit with that discomfort and then figure out how to fill your time. You might pick up a hobby like gardening or riding your bike or training for a triathlon. Who knows what could come of being forced to sit with your boredom that could take you in a direction that could change your life."
Because, at least in the meantime, the college admissions process will remain highly demanding of students' summers, Morse encourages students to schedule work-free time throughout the year. Taking doses of time for relaxation, she believes, will quell the effects of pressure during the summer months.
"It is absolutely necessary for people to have downtime," she said. "I think of that as an hour a day or two hours a day of downtime. It doesn't have to be all summer."
Morse also suggests that students alleviate the situation by taking time to find a summer activity that they will look forward to.
"If you're doing it purely because you should be doing something, and psychologically you are not very excited about it, then it will have more of a toll compared to someone who is psychologically excited about it," she said. "If you're doing it because you find it fascinating and it's invigorating and it's something you're looking forward to, it could refresh you. It could rejuvenate you."
-Hailey
[polldaddy poll=6360034]