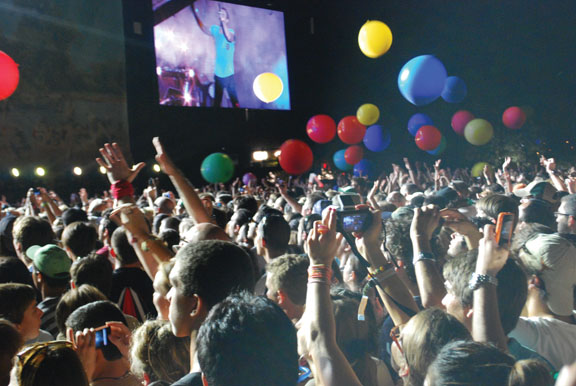 Hockaday Upper School students tell of their experiences at music festivals across the country
Ever since Jimi Hendrix rocked the national anthem at the Woodstock Festival in 1969, music festivals have become one of the most sought-after events by music lovers everywhere. As tickets start to go on sale and line-ups are made, several Hockadaisies talk about their experience at some of the most notable music events of the year.
Many Daisies dream about going to an annual musical festival like Austin City Limits (ACL) or Coachella in Indio, Calif. and are surprised when their wishes actually come true. Senior Megan, who attended Coachella this year, said "sophomore year I learned about Coachella and my friends and I always kind of joked about getting to go. But then we were like, 'wait… we should actually do this.'"
The Coachella Valley Music and Arts Festival is a three-day festival that occurs every year in the sunny state of California at the Empire Polo Club. The festival features all genres of music, including rock, indie, hip hop and electronic, as well as large sculptural art.
But some Hockadaisies, like junior Sophie, who attended ACL this year, planned to attend for a long time. "We went to ACL only to see one band, Arcade Fire," Sophie said, "but ended up getting to see a lot of other great bands too."
Although originally created to only celebrate the music of Texas, Austin City Limits is now one of the most popular music festivals in the country and also features many different genres of music. The annual three-day festival occurs in Austin at Zilker Park, where over 700,000 music lovers come to enjoy the event.
Both ACL and Coachella tickets are hard to come by. Ticket buyers stay up until the wee hours of the morning just waiting to click the button for their spots at the event. "I stared at my computer and at exactly 11:59 the tickets went on sale and I bought them," Megan said, "right away there was a wait list, so we were really lucky."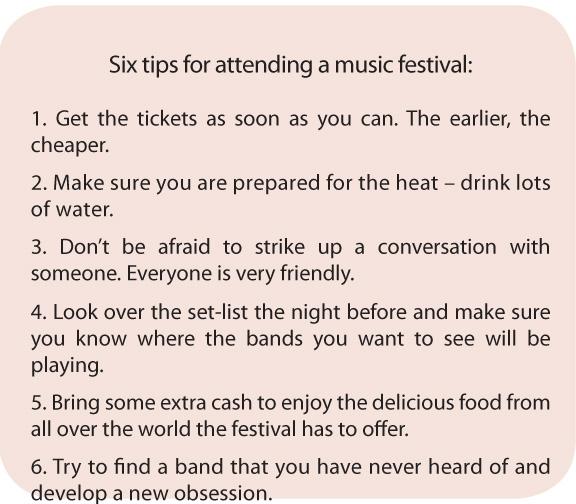 In addition to the bands, one of the most entertaining parts about music festivals is that hundreds of people come from all over the country. Whether they are hippies or hipsters, there is always someone to talk to or simply gawk at.
"You strike up conversation randomly with people," Megan said. "My friends and I met our festival fairy godmother. She was this completely crazy lady who'd been to Coachella like seven times."
The experience at a music festival is a lot more intimate than that at a concert, students say. After spending a couple of days wandering around and listening to bands with the same people, concert-goers get to develop bonds with complete strangers.
Junior Grace attended ACL this year and said, "everyone is there for the same reasons: to listen to music, to be with friends and to have a good time."
Although the big name bands are on everyone's list to see, the highlights of the festival for some students come from discovering a new band that they hadn't encountered before.
"There are little bands that you've never heard of that you happen to come across," Grace said, "and then you end up really liking them and buy their music later."
Instead of seeing just one band like at a concert, attendees get to choose from around 130 different bands that they can see. "Although it is impossible to see every single band at the festival, someone could experience around 60 concerts for around $200," Grace said.
"It's so different than a concert. When you go to a concert, you only see one specific person or music genre," Megan said, "but here we got to see tons of bands and all different types of music."
Senior Kate, who attended Coachella this year, said that the atmosphere generates a great attitude among the crowd. According to her, the whole event is so laid-back and everyone is so enthusiastic to be there that the experience is really memorable.
"You aren't restricted to one seat like in a concert. All the bands are so excited to be playing, and that makes it so much more fun," she said.
Music festivals give a lot of small, garage bands the opportunity to spread their music and acquire a new fan base.
Whether it's the delectable taco trucks, the legendary bands or meeting interesting people, Hockaday girls who have attended music festivals have plenty to rave about. These incredible events offer a unique experience that everyone who owns an iPod or uses Pandora will remember forever.
Sophie summed up the thrill of music festivals when she said, "It's ridiculously hot, and there's a ridiculous amount of people, but it's ridiculously fun."
-Sydney