Former French teacher and founder of Hockaday lacrosse team Beverly Cavitt still supports lacrosse players
While Hockadaisies on the lacrosse field fight to win a difficult game, a sparse group of spectators, consisting of mostly parents, chat idly on the sidelines. But one woman, an avid supporter of Hockaday lacrosse, stands out from the crowd due to her record attendance of Lacrosse Games: former French teacher Beverly Cavitt.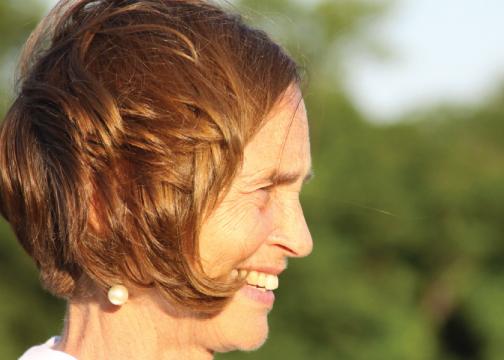 Even though she does not teach at the school anymore, Cavitt still attends the majority of the home Hockaday Lacrosse games. Her dedication stems from a long-standing passion for the sport.
Cavitt began playing lacrosse at age 10 at her all-girls school in Pennsylvania. "My dad played lacrosse at Princeton," she said, "so I grew up playing with him."
When she started her career at Hockaday in 1973 as a French teacher, she brought her passion for lacrosse with her and began Hockaday's first lacrosse club. "No one at that time knew anything about lacrosse," Cavitt said.
Shortly thereafter, Cavitt began to arrange games for the club against other schools.
"Sometimes faculty would come, sometimes Greenhill would come [to the games]," she said, "It was just people who knew about lacrosse."
After four years as the club sponsor, Cavitt discontinued her coaching career due to other commitments. But she still attends the majority of the team's home games and encourages the players on and off the field.
"It's cool to see how the program has developed and changed to come to where we are now," said Colleen Durkin, an Upper School history teacher and another frequent attendee of Varsity Lacrosse games. "I'm glad she's here to experience that growth. She's gone from asking people to stick around to learn the game to seeing them go to state."
Catherine also said that Cavitt sends the players encouraging emails before and after games, makes homemade chocolate cakes before important counter games and SPC and hands out M&Ms on the sidelines before and during games.
"These special treats give us the 'power' to beat whatever opponent we face," said Catherine, a member of the Varsity lacrosse team and a former French student of Madame Cavitt. "She loves the lacrosse team so much and does everything in her power to make sure we succeed."
Cavitt's support and attendance does not go unnoticed by the Varsity Lacrosse team members or their coach, Elia Kochan.
"I met Madame Cavitt on my first faculty day at Hockaday," Kochan said. "Whenever I ran into her at school, we would talk about the team. I have asked her to guest coach for the past three years, and I look forward to her continuing to do so. She has tremendous enthusiasm for the lacrosse program."
Cavitt also continues her involvement at Hockaday as a substitute for language teachers, and each time she substitutes for a class, she asks if any of the students in the class play lacrosse.
"Some people like riding horses. I like lacrosse. It's just my passion," Cavitt said.
Kochan says that the lacrosse team would love to see more fans as dedicated as Cavitt.
"I love the positive affect that she has on the girls when she comes to games."
The lacrosse team and all other sports team would love to see more dedicated fans at all of their upcoming games.
-Elie