Senior Daly reflects upon her years as St. Mark's mascot, Lenny the Lion and welcomes her replacement
Donning the St. Mark's lion suit every Friday night during the fall for the past three years, senior Daly has transformed the school's mascot into the kid-loving and energetic Lenny the Lion.  While she recalls her time in the suit fondly, she expresses excitement in passing on the role to freshman Anesu for next year.
"Being on the track at a home game, the band is playing, jumping up and down on the track–those games were my favorite part of high school," she said.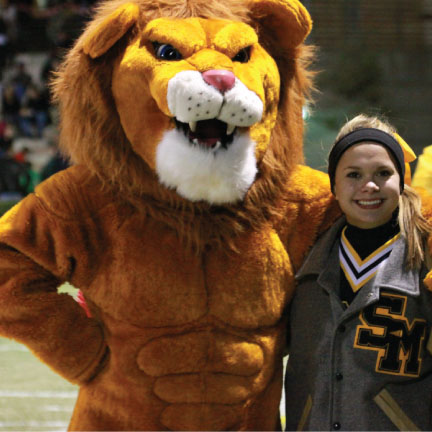 Daly was the only student who tried out for mascot her freshman year. It was an enigma she made sure of.
"I went around and took down all the posters that said try out to be mascot because I didn't want anyone else to tryout," she said.
Daly became the first regular mascot after several years of one-season mascots and even a few seasons without a lion, something she says she hopes will never happen again.
"I like that I made the mascot more of a character," Daly said.
Before Daly's first visit to the annual cheer and mascot camp at SMU in 2009, a camp that the cheer team goes to every summer, the lion mascot lacked a name. Her counselors told her that all mascots require a name, so Daly invented "Lenny" on the spot.
"I was like okay what is an L name? Okay Lenny. Lenny the Lion. And it stuck."
Daly also integrated the mascot into the cheer team for the first time. "I went to every single practice. I like being on teams and I wanted to be part of the cheer team."
Daly's co-captain senior Rachel said that she is excited for Anesu to get a turn in the suit but also sad to see Daly go. "The entire squad absolutely loves her. She is part of our cheer family," she said.
Daly spent clinic week working with the three girls who tried out for mascot.
She wishes to pass two main pieces of knowledge to Anesu: "The mascot has to love kids and be a team player."
Anesu described her reaction to learning that she was going to be the next mascot as the "typical teenage girl reaction. "[Brooke, a returning cheerleader, and I] were holding each other, jumping up and down and screaming. I think it was one of the happiest moments of my life," she said.
Anesu says that being the mascot fits her personality perfectly. "To just be wild and crazy and not have people look at you weirdly because you're in a suit," she cites as major reasons for trying out.
Her tryout performance involved riding in on her skateboard and dancing to a mash up of four songs. But in order for her to come in on her skateboard, the coaches had to pin up the legs so that she wouldn't trip over the overflowing pants of the suit.
Despite technical difficulties, Anesu hopes to bring a new and fresh energy to the mascot position.
"With something as iconic as Lenny the lion and with someone like Daly doing it so well, I think the most important thing is not to try and be just as good as her but be different and that's what I want to do," she said. "I want to be different."
-Avita