Arriving in record numbers, this year's eighth grade class swarmed cheer tryouts, held on the week of April 9, in hopes of joining the St. Mark's cheerleading squad.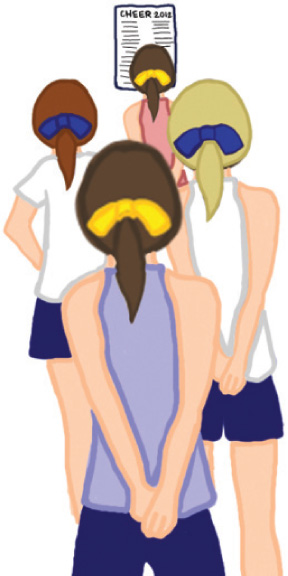 Fifty-three girls, 23 of whom were eighth graders, arrived at tryouts, each hoping to secure a spot on next year's squad.
Co-captain senior Rachel said that her initial reaction upon seeing the girls the first day of the clinic was: "Oh my god, there's so many of them."
St. Mark's Varsity Cheerleading coach Kiki Pennington, however, said that it was exciting that so many people showed up and showed interest.
"I am thrilled with the turnout of girls who came to tryouts this year," she said.
Seven girls in this year's eighth grade class had previously been on cheerleading squads, giving them an advantage not known to previous grades.
Eighth grader and newly appointed St. Marks cheerleader Kathleen said, "My grade has always been really outgoing and confident."
This along with the number of girls who had tumbled and danced gave this grade in particular the self assurance to show up in their masses.
Senior Daly said, however, that each batch of eighth graders was drawn by the novelty and mystique of cheerleading.
"[Just like in] seventh grade everyone wants to play every sport, and so cheer is just this new thing going into high school," she said. "The novelty of cheer is what draws eighth graders to it."
It was this "novelty" that prompted eighth graders Kathleen and Emily to begin taking private coaching lessons with former SMU cheerleader Brittany Cavender at the beginning of this year. They met with their coach once a week, but as tryouts approached, they increased their frequency to twice a week.
"We worked with her and learned the basic cheers and jumps," Kathleen said.
During cheer clinic week, the days in which the girls learned the material in preparation for their tryouts, eighth-grader Christina could perceive the enthusiasm of the girls trying out through their commitment to practicing during every spare moment in the day.
"You'd see [everyone] during all the free periods practicing," she said.
Out of the 53 girls trying out, 11 rising freshman joined the squad. Their numbers evenly match the number of seniors that will be on the squad next year; only six of the rising seniors, however, joined the squad their freshman year. The number of incoming freshman for the 2012 season marks the highest in the history of St. Mark's cheerleading.
"It's convenient that there are 11 returning seniors to take care of the 11 new freshman, but it will also increase the size of the squad for the future," rising senior cheerleader Katy said. "I am sure it will be a fun experience for all of them though."
Pennington also expressed excitement about the large number.
"I am pleased with the new members of our team and our potential for another outstanding year," she said.
Daly says she is not concerned by the larger-than-average number of incoming freshman.
"It's not like the freshmen are going to take over and run the cheer team," she said. "It's just to be expected that if we have 12 spots then there will be 12 new cheerleaders who are probably mostly freshman. You always want new people."
-Avita