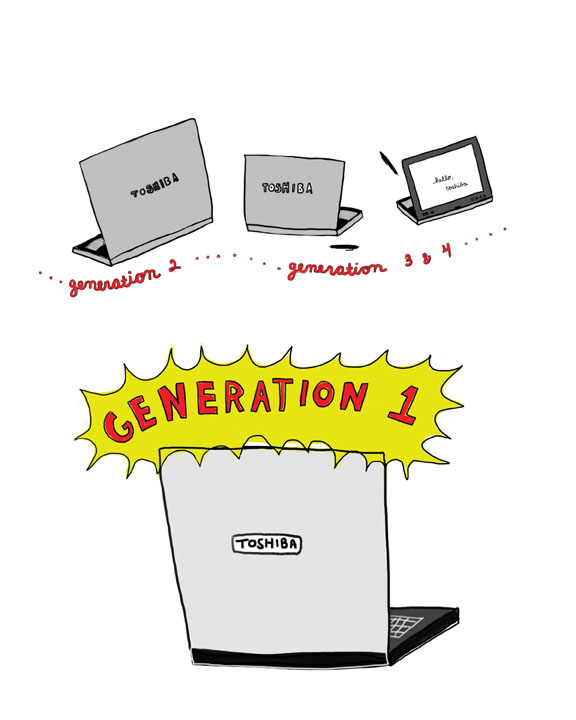 Long term relationships are hard. I've been in one for seven years and I can't say I've loved every minute. Sometimes, we just want to do different things. Sometimes it feels like nothing is working. Sometimes he just shuts down and there's nothing I can do to bring him back.
I am referring, of course, to my 2005 Toshiba laptop. It is the oldest laptop on campus, you can ask the techs if you don't take my word for it. Even the loaners are newer. On the rare occasion that I require a loaner, I am the only girl who gets a loaner and considers it an upgrade.
When I reached sophomore year, all my friends simply could not wait to abandon their chunky four-year-old laptops for chunky brand-new tablets. They embraced the thrills of turning one's handwriting into a font, doodling into their microsoft word notes and video chatting.
I, on the other hand, refused to give up an inch of screen or keyboard width and estimated that even without a warranty, I would not spend the cost of a new laptop on repairs (for the record, I haven't).

Every part of my laptop, from the keyboard to the screen to the motherboard, has been replaced at least once since I was first told to be very careful and take very good care of it in the sixth grade. In Middle School, having my screen replaced was a pretty traumatic experience because I considered the top of my computer an objet d'art and was loathe to sacrifice my collages of stickers, hot glued fake pearls and glitter glue for a working screen.
Like every Hockadaisy, I've had my share of disasters. The night before eighth grade exams when I spilled tea on my keyboard, panic moments when faced with the blue screen of death or the black and white pixelated screen of death that I believe has only been recorded at Hockaday on my computer but these tribulations have taught me much. I've learned to not even bother caring about the stuff on my C drive.
"Just delete it all, it's fine," I tell the tech with what I imagine to be a James Bond-like nonchalance. All my photos and music are on my mom's (mac) computer for safekeeping.
One might think the techs would have grown to hate me, or vice-versa, but that has not been the case. They treat my Toshiba's ailments the way I imagine a vet to treat an old but beloved family dog, they do what they can, though my poor laptop will just never be quite the same. I appreciate their efforts and they appreciate that.
Once, I interviewed Director of Technology Richard Bradley for a Fourcast story and he professed to owning a laptop of a certain age which he turned on "just for fun, to see that it still worked." He did not, however, entrust this timeworn machine with his JRP, nor did he use it to type each and every one of his college applications or to write and edit to dozens of stories for this publication.
Yes, even this last one.
-Caroline