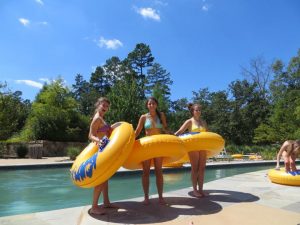 It can be hard making the transition into senior year. Some girls realize and accept it when they first don their white blazers and receive their rings in May of their junior year. Others don't fully comprehend that this is their last year until they realize that it is their "last first day" before college. And for even others, a certain white hat and dress are the only way to make their fate come true. But one of the biggest events that are specific to seniors is the Senior Retreat, held this year on Sept. 8 and 9 at Allaso Ranch in Hawkins, Texas.
After eating lunch, the girls had five hours of free time. Most girls split their time between the three pools with water slides and the zip line. The weather could not have been better, providing lots of sun for tanning but not as hot as usual Texas weather. Senior Chloe said Allaso Ranch was "so beautiful." Senior Sarah also explored the surrounding hills on a long hike with her friends before settling down to swim and ride the lazy river.
However, one big problem about the retreat was its length. Senior Mannhi thought three days rather than two would have been a better length for the retreat, especially to accommodate girls with conflicts such as standardized testing. Scheduled on the same morning as the ACT, more than 20 girls did not get to Allaso until 4 p.m. A few girls with extended time on the test came even later.
"I feel like I missed out on the 'fun' parts of the retreat," senior Ali said. "I wish it could have been longer so the ACT kids could do all the activities too."
Although elections and grade decisions were held until dinner when everyone was present, those girls missed out on most of the free time and did not have the opportunity to use the zip line.
After dinner, various meetings and grade-wide votes were held. Seniors Christina and Grace were elected as the Halloween chairs; Hollis, Hannah and Ashley for Form Day; Kate and Jordan for Senior Secret Pals; and Grace and Callie for Splash Day.
The seniors decided on "Like a 13oss" and "Senioritas X III" for their assembly cheers, led by Callie and Lauren.
The last official event of the night was the infamous bonfire. Mannhi said that it was her favorite part of the trip.
"It was a great recap of all the wonderful things (and some not so wonderful things) that happened to us during our years at Hockaday, and it was a great reminder of how much we love and need each other," she said.
At the bonfire, most girls stood and shared feelings, confessions, apologies or shout-outs to people who had helped changed their time at Hockaday.
Ceramics teacher Kevin Brady said it was one of the most positive bonfires he has witnessed.
Allaso Ranch provided an opportunity for the senior girls to bond beyond their usual friends. As they walked into the dining hall for each meal, each girl randomly drew a number that corresponded to an assigned seat at a table. That way, the eight girls around the table changed each meal and gave girls the opportunity to talk with new people outside of their regular circle.
"I had a great time getting to talk to girls I wouldn't have thought to sit with otherwise," senior Courtney said. "It made the meals a great bonding experience for the grade and worked to mix friend groups."
-Megan