Throughout the world, though countries may speak different languages and practice different customs, there is one thing we share: Earth, and we all have a duty to protect our planet.
Representing the next generation of Earth's advocates, freshman Darcy and juniors Anisha and Anna attended a forum called "The Guardians of the Earth" to discuss international, environmental and space relations.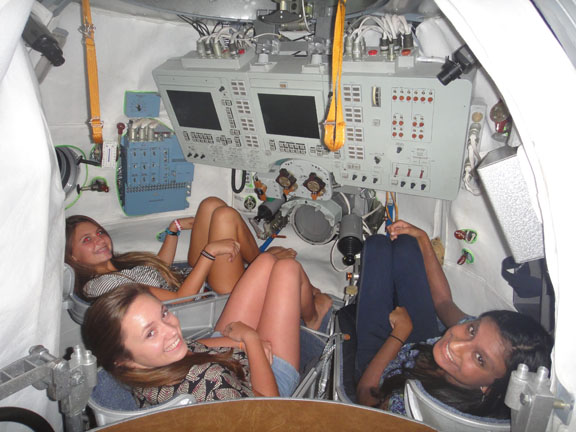 To attend the program, Darcy, Anisha and Anna had to submit an essay, video, webpage or interview showing their interest in Earth and space.
Held in Star City, Russia from Aug. 5 to Aug. 9, the forum brought together delegations from around the world. Underlying the agenda of the forum was the goal to foster cultural awareness and international cooperation.
"It was really cool because once you got past the language barrier you could see the different cultures between us," Darcy said.
To prepare for the trip, Anna bought a book called Passport to Russian, which she said "was the best five bucks she ever spent."
All the Russian students were very amused by Anna's book and were very eager to help Anna, Darcy and Anisha with their Russian pronunciation. Despite their best efforts, they learned few words other than 'yes' and 'no'.
Though they visited Russian icons such as the Red Square, Lenin's tomb and the Kremlin, the people of Russia unlocked the secrets to their culture.
The girls learned that Russian people don't drink water with their meals. Russian grandmothers told the girls several times that if they sat on cold, hard floors they wouldn't have children when they grew up. Russian boys practiced the art of chivalry like it was going out of style (which in America, of course, it is.)
"I didn't know what to do when a boy stuck out his hand to help me down from a bus," Anna said.
The Russian students also gained cultural knowledge about the United States, from their questions about the wars in Iraq and Afghanistan to misconceptions about McDonald's. Russians believed Americans would rush to the nearest McDonald's in the event of a bomb scare.
All the students at the forum, however, gained a greater global awareness that transcended country boundaries, Anna said. When the students went to Moscow Mission Control, they talked to cosmonauts in space via "space skype," Darcy said. The cosmonauts at the International Space Station answered their questions, attempted to dance in zero gravity and shared their pearls of wisdom.
"The cosmonauts would be telling you about how they viewed the world and once you get into space the earth seems so tiny and you can't see any boundaries anymore," Anna said.
Though some of the words inevitably got lost in translation, the message of the cosmonauts paralleled the purpose of the forum: to have a more global perspective, Anna said, and from "[this] point of view up in space, problems on the Earth seem so small and so unimportant."
-Mary Clare
India English teacher Kyle Vaughn
England English Department Chair Dr. Deborah Moreland