Retracing the steps of famous British writers including William Wordsworth and Virginia Woolf, English Department Chair Dr. Deborah Moreland traversed England this summer with her husband.
Despite having studied British literature for most of her life, she had never been to England. The trip enhanced her understanding of the nuance and allusion of these writers and the importance of place to understanding literature.
Hockaday funded the trip via the Prentiss Grant, a part of Hockaday's Endowment fund. The grant is sufficient to send two teachers from Lower, Middle or Upper School each year for summer education, said Assistant Head of School for Academic Affairs and Provost Cathy Murphree.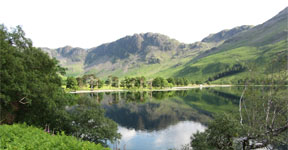 By gazing into the depths of Lake Buttermere in the English Lake District of Northwest England where Wordsworth supposedly wrote "Intimations of Immortality," recreating Mrs. Dalloway's walk through London and seeing Godfrey Lighthouse where Woolf wrote To the Lighthouse, Moreland gained "more enthusiasm and more energy" for teaching, she said. "[My trip] infuses everything."
Moreland realized how important a place was to understanding literature.
"When I saw the lighthouse, I felt actually enlightened," Moreland said. "I just wanted to get out to it."
In the spirit of the novel, just as the protagonist's family rows out to the lighthouse, Moreland and her husband rented a little motor boat to traverse St. Ives Bay, but the coast guard halted their pilgrimage.
So instead, she and her husband took their car and drove as close as they could to the lighthouse.
"It just became something symbolic to do it," Moreland said, "to see a place that inspired such a great writer, a writer that has given me so much pleasure and so much meaning to my life."
She had another revelation when she sat before Lake Buttermere, a place where Wordsworth spent much of his life. His poem "Intimations of Immortality" centers on the theme that old age brings the distance and experience required for reflection.
"I thought I got [the poem] before," she said, but sitting on the grass in front of the deep, reflective waters of Lake Buttermere, "I really got it then."
-Mary Clare
India English teacher Kyle Vaughn
Russia Freshman Darcy and Juniors Anisha & Anna