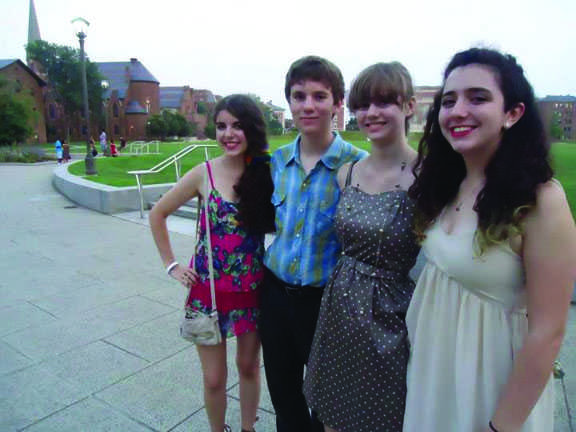 College Counseling advises to spend the summer before senior year pursuing your passion, whether it be sports, academics or fine arts. When senior Lizzie approached former College Counseling Associate Leslie Dawley last year, she did not know of a program that suited Lizzie's burgeoning interest in technical theater and set design.
Dawley soon discovered The Center for Creative Youth, a five week program at Wesleyan University in Middletown, Conn. for talented high school students in the arts.
Lizzie described the experience as a "test run for college." The program reassured her that she would have friends in college, that she would be able to anticipate problems and challenges and that she would have to be her own disciplinarian.
Even the application for the program, which involved submitting a portfolio and letters of recommendations, gave her a glimpse into the college application process and gave true meaning to one of the axioms of the College Counseling office: that planning, preparation and knowledge of deadlines help to reduce stress.
Just as College Counseling helps students find the perfect college, they helped Lizzie find the perfect summer program, she said.
"I really wanted to do an in depth program where you studied set design and it wasn't just like you exist to hammer stuff and build stuff for the acting program. That is not what I wanted to do," Lizzie said.
For three hours a day, she attended classes in technical theater to learn new techniques and practice her design skills. Lizzie, who had never envisioned set design as a possible career before the program, realized that "it was not this huge, impossible thing," Lizzie said.
"Understanding that you go to grad school, then you meet people, and this is how you build connections, and this is how you get a job was a really good thing to learn," she said, "because it at least made me see that this is a possible pathway to becoming a set designer."
Though she is still dubious about majoring in technical theater, through the program, Lizzie realized that she still wants to incorporate technical theater into her college experience such as participation in an extracurricular student theater program.
Student theater productions, Lizzie said, "will always need 'techies.'"
-Mary Clare
India: English teacher Kyle Vaughn
England: English Department Chair Dr. Deborah Moreland
Russia: Freshman Darcy and Juniors Anisha & Anna