A Dissertation on the Hockaday English Curriculum
It's a commonly spoken consolation at Hockaday that though the English program can be tough, at least college will be a breeze.
"I remember feeling very frustrated at times when I struggled to get A's in English…I never realized how well Hockaday was preparing me for my college classes until after I got there," University of Rochester student and Hockaday Class of 2008 graduate Avery Ziblich said. "Hockaday has given me a broad skill-set that gave me a huge advantage going into college."
It's a quickly accepted and frequently repeated fact by alumnae, parents, teachers, administrators, college counselors, the H-Club girl giving a tour down the hall… Bottom line: Hockaday English "rocks."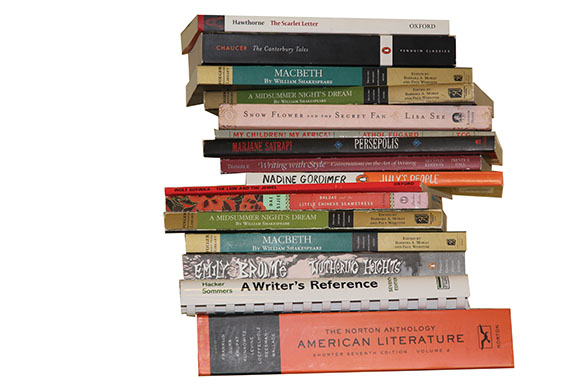 But it takes work and method to achieve that level of notoriety.
English Department Chair Dr. Deborah Moreland said hours upon hours of work, reflection and care go into planning a seamless English program, especially in choosing the right texts for an effective and productive year. It's a complex system and many factors are taken into consideration, the main one being the lack of obligation to the classics, otherwise known as the great books, the canon or the treasure chest of Western literature.
However, it's an absence that some seniors spoke of in their senior interviews.
"At times, I do wish I had read more classic literature while I was at Hockaday, because I do often find myself being one of the only few students in a class who does not raise their hand when a professor asks if we have read a certain classical literature piece," Ziblich said.
Many current students agree. Senior Lizzie asserts the necessity of the canon by describing how strange it is that English classes read the novel Balzac and the Chinese Seamstress without having read work by Balzac himself. It takes away from the student's understanding of the text.
"I know it's important for us to read [world literature]; it gives us more exposure to other genres. But going into college, I feel like there is a set number of books I need to have read to be culturally prepared for the real world," current senior Anase said. "The obscure topics are good, but they are not realistic to what everyone else is talking about."
But the more popular western literature can also present challenges.
"When I was in school, it was a bunch of dead white guys and that was considered the canon." Moreland said. "That was considered what was best and what had been read and written in the world following an awful lot of Matthew Arnold's idea of great books, what is sweetness and life."
Most English teachers agree that the canon is rather politicized and does not include everyone.
"The canon excludes a lot of different groups whether it be gender or certain races, cultures, even voices within a culture," English teacher Kyle Vaughn said.
Though students and graduates may often take this as a weakness or lack of preparation in the widely accepted classics of literature, this lack of adherence could be a seriously misunderstood strength in the curriculum as Vaughn and Moreland suggest. It was not long before the English teachers realized the shortcomings in only focusing on this body of work.
"To really work with many of the canonical texts, a reader has to develop the skills of being a resistant reader," Moreland said. "Even as we read Plato, we have to remember who we are and who he's writing to and what his life story is, or we're going to fall into that trap of being passive readers."
In solely centering on what belongs in the classics, a curriculum could forfeit other valuable work and lose a more unbiased judgment of what is deemed worthy of being taught. The selection of a literary piece is more consciously done to avoid doing so according to Moreland.
"We evaluate our program constantly, and as English teachers, we talk a lot about what we're doing. There is a huge responsibility that I think we recognize as being a gatekeeper," Moreland said.
In hopes to foster more intellectually curious and engaged students, the department strived to choose texts based on its ability to mentor students through their learning of reading and writing, instead of solely selecting a piece based on its coveted position in the proclaimed canon.
"What determines that choice [of choosing a text] is the kind of writing assignments we want to get out of it, sometimes the composition of our classroom, sometimes individual preference," Moreland said.
Other English teachers, however, insist that the school does provide enough of the canon, Dr. Katherine Downey being one of them. She believes the amount of classics taught at Hockaday readily fulfills the requirement.
"I actually think we read a lot of classics," said Downey, using sophomore and junior years as examples. Form II students read many works by British canonical writers such as the Brontë sisters and William Shakespeare while Form III students read out of an anthology of all American classics.
In addition, Downey believes "our whole curriculum all over the school is so global that that's not something that we need to have pointed out."
And in response to claims of a lack of grounding in the canon, Downey thinks that, in reality, the department is currently teaching more classical literature in comparison to five to ten years ago, an opinion which could be supported by the recently added "Great Books" senior seminar.
Regardless of whether or not the amount of classics meets everyone's satisfaction, there is more inclusion of world literature or texts from a non-western point of view.
In evaluating the curriculum each year, Moreland found that the courses had become "more and more multicultural through a lot of self-study."
For example, the freshman course centers completely on world literature, much of it in the Eastern Hemisphere, to, as Moreland said, "disabuse kids and us that we are not in the center" during a time of adolescent self-absorption.
"We feel that there is a strong commitment at that point in our students' lives when they're thinking 'who am I 'and 'it's all about me' to try to disrupt that as much as we can," Moreland said. "[World literature] is a world that is less familiar…And I think that's rather a shock."
However, that initial disconnect with the world literature texts does lay the groundwork for an exploration into different worlds and people in later years. In addition, not knowing, Moreland said, creates some of the best writing.
"I think a lot of good writing comes down to cognitive dissonance, you know a sense of not knowing, of taking a risk, reaching out there to try to know in a place of uncertainty while still having this matrix to kind of ground yourself in."
In addition to growth and empathy, the concept of voice, to many students and teachers alike, also starts with the exploration of different voices in the non-western world and truly separates the good writers from the great ones.
"Sometimes, we have to go outside of the mainstream and hear these other voices, not only as a writer but as a citizen of the world…I think that a lot of those kind of voices remain on the fringe in terms of what we call the canon, the canon being the accepted works of literature," Vaughn said.
The compassion required in reading and absorbing literature and experience foreign to our own requires great strength as a reader, and will be one of the most important aspects that students take away from the curriculum.
Remarking on the average student, Vaughn said, "She leaves here a strong reader, not in terms of skills but interest because there is always going to be some book that you haven't read…We still hopefully approach a conversation as intelligent, compassionate people. If there is something we haven't learned about or know, what's most important is to be intellectually curious."
-Katie