All Aboard to Morgan Dormitory
Two faculty members make the Boarding Department their permanent home
Walk to the end of the dorm hallway of the Boarding Department and through the door on the right, you will feel as if you've stepped out of Hockaday and into a lavish city apartment. You have entered the Skerritt family apartment.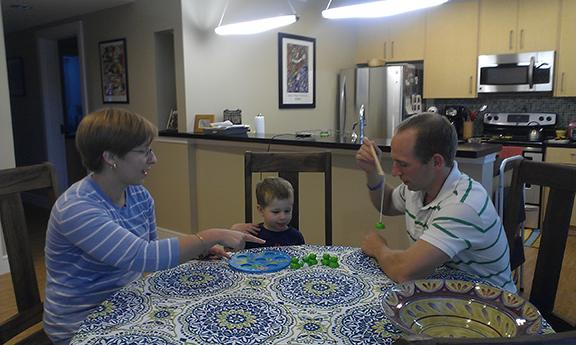 For the first time in Hockaday history, the boarding department is accommodating, aside from boarders, two faculty members. Upper Morgan Dorm mom Vicki Palmer and Associate Director of College Counseling Courtney Skerritt and her family are making Hockaday their permanent residence.
The administration is focusing on strengthening the unity between the boarding department and day students as well as making boarding more "home-like."
"There is a whole school invitation and expectation in the adult community to be more involved in the boarding department to some capacity—whether it is having dinner going to eventor chaperoning," Head of Upper School John Ashton said. "It's not about bridging the gap between boarding and day students; it's about becoming the school we really are in more substantive and purposeful way: a boarding school."
Over the summer, several dorm rooms were remodeled and turned into two new apartments. Ashton said for next year, plans are in place to construct two more and expand the boarding program.
Both Skerritt and Palmer are excited about living at Hockaday and they feel privileged to be a part of this new program.
"It was a wonderful opportunity," Palmer said. "I think it's going to be a great year and I hope that this program will continue and just grow and grow and be very successful."
Skerritt, along with her husband and 2-year-old son, Collen, moved into the apartment on Lower Morgan while Palmer moved into the apartment on Upper Morgan.
If you walk into the Skerritt's apartment on any Monday night, the first thing you might notice is the smell of popcorn. The Skerritts have put their newly built kitchen to use, baking often and making cookies.
To the right of the open kitchen is a living room, complete with wooden floors and enhanced with personal items: a TV, a yellow couch, a small round dining table. Pictures hang on the entrance hallway and near the kitchen is the master bedroom and another room that they have converted into a small playroom for Cullen.
"The apartments are beautiful," Skerritt said. "And I absolutely love the commute in the morning. Living here has been really convenient for my work and taking my son to school since I just have to drop him off at the daycare."
For Skerritt, her family's proximity to the boarders was a major incentive to move in. She hopes that her son will benefit from living in a community of students from around the world.
"Cullen is part of an incredibly diverse community right now. When else could I give him that gift?" Skerritt said. "He has the best possible role models here."
Skerritt's husband Devon, a college counselor himself and Dean of the Rhode College Program at Williams Preparatory in Dallas, shares his wife's enthusiasm for moving into their new apartment.
"I am thrilled at the opportunity to become a part of the Hockaday community," he said. "We already feel at home in our new residence and I look forward to getting to know the students as we immerse ourselves in dorm life."
Courtney Skerritt and Palmer both stressed that the boarders are like their extended family.
"Imagine sharing your home with your teacher," Courtney Skerritt said. "It's a little different, but I have been pleasantly surprised how easy it is to share meals and share activities and events. I think when students are outside of class, the walls come down."
The boarders have responded positively to Palmer and the Skerritts.
"I like the Skerritts and Ms. Palmer a lot," said Sophomore boarder Doris. "I think they've been really helpful."
Palmer loves to interact with the boarders and hopes that this program will continue for a long time.
"I like being around those girls so often; I admire them and respect them," Palmer said. "They are just heroes to me the way they are embracing living away from home. Just feeling like a part of it, in even just a tiny way, is my favorite thing about moving here."
-Courtney