Skiing Not Just a Vacation Past-Time
Freshman water skiier Grace has already won a national title and battled a serious injury
Even before she could form complete sentences, freshman Grace could water ski—at age two, she took up the sport. Last year, she became a national champion. This year she's fighting to return to skiing after a stress fracture in her back.
Grace is currently undergoing physical therapy after her injury that built up over time through the rigorous ski training and said she hopes to resume full-intensity training by November. For the time being, she is trying to keep her back healthy by wearing a brace while skiing.
"I've been doing a lot of stretches and am trying to keep my back healthy," Grace said.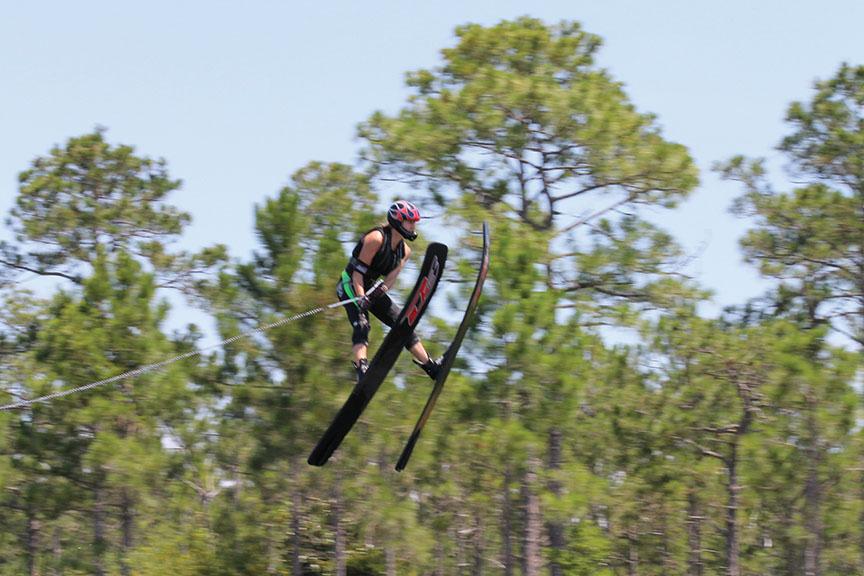 Although Grace's coach of five years, Joy Todd, said that recovery will take "a lot of hard work," she thinks Grace is up for the challenge.
"An injury can add mental stress, but it's not so much that Grace can't handle," Todd said.
Dr. Brad Harman, a member of the U.S.A. Water Skiing Medical Staff, said in an article for the Celburne Times Review that jumping is by far the most dangerous aspect of water skiing.
"The speed, timing, hitting the ramp in the water … all of that has to be perfect," he said. "Common injuries are fractures, sprains, ligament tears, cuts and bruises."
When Grace is training as per usual, she heads out to her lake house in Omaha, Texas, which is about a two hour drive west from Dallas, every Saturday and Sunday during the school year and to a lake in Frisco, Texas every Wednesday.
Grace said that, to her, water skiing is "just a family thing." Her parents, Mike and Suzanne, met through a mutual friend who was a skier. Grace's brother, Ryan, 11, is also a highly competitive skier.
Grace competes in three events: jumping, slalom and trick. In the jump event, competitors launch themselves off a ramp, fly through the air and try to travel the farthest distance possible.
Jumping for distance is one of the most dangerous events in skiing and requires a knee brace, helmet and mouth guard, Grace said.
Grace's two other events, slalom and trick, involve hitting buoys on the water and twisting in the air respectively.
An average training day for Grace consists of about four sets of between 20 and 30 minutes each around the water.
But her hard work paid off last November when she won nationals by a narrow margin of about five points.
"It was a really great experience because it was so close," said Grace who looks back on the competition as one of her favorite skiing memories.
Unfortunately, Grace was unable to compete at the National Competition this year due to her back injury.
In November 2010, Grace also scored key victory when she travelled to the Pan American games in San Bernardo, Chile with her ski team, competing against different teams from North, South and Central America. At the event, she took the gold medal in a slalom event and contributed to the team all-around gold medal.
"She responds well and has a great attitude," Todd said. "She also can be silly and goofy and makes you laugh."
Grace has high hopes for 2012-2013. She said she hopes to qualify for the May Masters Competition in Pine Mountain, Ga., and she plans on training throughout the winter (or until the lake at her lake house freezes over).  Since only three out of the four girls in her age group can qualify to compete, Grace has to put out a lot of scores.
Todd, who lives out by the Grace's lake house in Omaha, has different, although equally high, hopes for Grace this year. She would like to see Grace earn a personal best in all three of her events this year and place in the top three at nationals in 2013.
Although skiing is a year-round sport, most competitions take place in the summer. Grace cross trains in the winter and often runs to stay in shape, but she admitted that it hardly compares to training on the water.
"Nothing really gets you in shape for skiing other than skiing," she said.
According to Todd, Grace has a great attitude. Her injury has not deterred her from the sport in the slightest.
"I will probably ski forever," Grace said, adding that she loves the "friendly competition" between skiing competitors.
-Alaina