Overcoming the Odds
The Hockaday Volleyball team copes with low numbers at tryouts and a slew of injuries
Last year and the year before last, 35 and 50 girls tried out for varsity volleyball at Hockaday. Recently, however, the varsity and junior varsity volleyball teams have been faced with low turnouts at try-outs as well as a number of injuries.
According to sophomore Samantha, a returning member of varsity volleyball, a typical volleyball team consists of 14 players. This year, however, Hockaday's varsity team numbers nine; junior varsity numbers 12.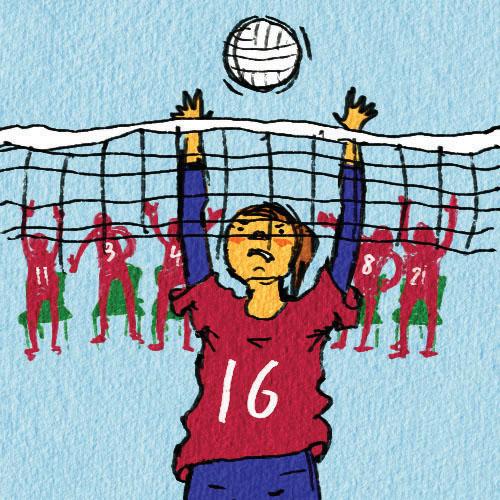 "A lot of times we play teams that have more players on the bench than we have on the whole team," said Maisey, co-captain of this year's varsity volleyball team.
However, Maisey said she liked having a small number of players. "Everybody has to contribute something. It has added a nice chemistry to the team because everybody has to be responsible and step up and play."
During volleyball tryouts at the end of August, only 18 girls attended the first day. Of those 18, only seven were returning from last year's team.
Coach Adaku Achilefu, the varsity volleyball coach, said that, in past years, the varsity and JV teams have consisted of up to 40 girls—more than twice the number on the teams this year.
Callie and Nina are the only two freshmen playing on the varsity team this year.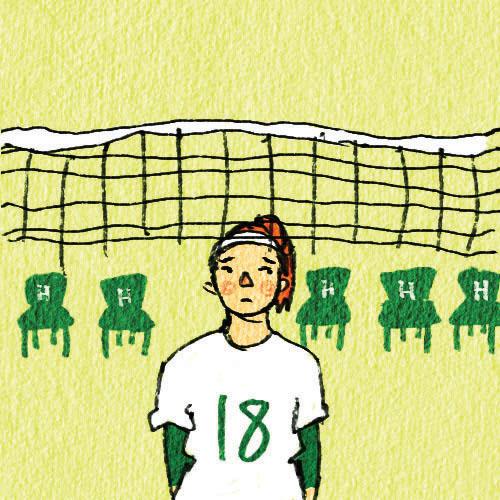 Maisey said two to three freshmen on varsity is typical. She said that varsity is definitely a lot faster than Middle School volleyball and that "they are playing against girls who are three and four years older than them and it's a lot of pressure."
Samantha said fewer girls may have tried out due to the team's lackluster performance in last year's Division II for Southwest Preparatory Conference and that probably they wanted to try out for sports that are favorites in the tournament.
In addition to low numbers, injuries have been a setback for the varsity team. Three players—junior Madison, sophomore Mackenzie and Samantha—are currently recovering from back injuries. And Callie has sustained a knee injury.
Samantha said she hopes that the injuries do not affect the team's performance throughout the season.
"It's something called Icy Hot and the desire to win," she said.
Despite small numbers and obstacles for the volleyball teams this year, Samantha said she is confident in her teammates and their ability to win SPC.
"At the beginning of the year, we just said 'let's have fun,'" she said. "We have recently become more trusting of each other and confident as teammates."
And the varsity team's numbers may be looking up for next fall. Achilefu said that four Middle School teams were formed this year. Many of the Middle School players will "carry over" into Upper School next year.
-Charlsea